Kansas City, Mo — When a man is attacking a monster pork sandwich at Arthur Bryant's, the most famed of this city's famous barbecue joints, it is, perhaps, impolite to raise the subject of heart disease.
But Don Breckon doesn't mind. "Heart attack?" he asks, and cheerfully holds out his plate, overflowing with barbecue pork and thick-cut french fries, a few wilted pickles on the side. The very air in this stifling brick box of a restaurant seems slick enough to clog your arteries. And Breckon, 61, knows from sad experience that if you take your leftovers home, you'll find them coated with congealed grease by morning. Still, he loves the place, and the food, all the same.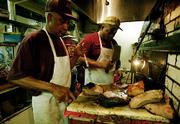 Let short-order cook Quincy Echols explain: "Everything here is high fat, high cholesterol, high calorie. But it's so good, when you're eating it, you don't think about it."
Trouble is, meals like this are not rare indulgences for many Midwesterners. They're everyday, even three-times-a-day fare. And the meat-at-every-meal culture combined with an increasingly sedentary lifestyle, high rates of smoking and widespread obesity has boosted the region's cardiac-disease rate sky high.
The state with the highest mortality rate for coronary heart disease is New York. But nine of the next 10 states on the list are clustered in the Midwest and the upper South. A Kentucky cardiologist has dubbed the region the "Coronary Valley," and this fall the American College of Cardiologists will focus its annual conference on how to overcome cultural inertia and spread heart-healthy habits.
After several years of study, physicians and epidemiologists are now convinced that it's lifestyle not some quirky toxin of the Mississippi River that accounts for the Coronary Valley phenomenon.
"It's not the water," said Dr. Thomas F. Whayne Jr., a professor at the University of Kentucky's Gill Heart Institute. "It's not any chemical company belching out bad humors. It's the health habits."
Those habits, agreed Dr. Thomas Kottke, a Mayo Clinic cardiologist, "are among the poorest in the country."
And they are deeply ingrained, although their toll has only recently been quantified as scientists learn more about the causes of heart disease.
'No tofu here'
Take, for instance, diet. Meat is emphasized in the Midwest as nowhere else in the country. As Matt Bucknell, a native of Oregon, observed after a few days on business in Kansas City, "there's no tofu on the menu here."
In part, it's economics: Midwesterners have an interest in promoting beef and pork since so much of the farm economy depends on meat prices. (Drive through big cattle states such as Kansas and South Dakota and you may well see roadside billboards urging, "Eat Beef.") It's also, by now, become cultural tradition. To many, a meal doesn't feel right without meat.
Most physicians agree that red meat is fine in moderation, maybe 12 ounces a week. But the diet in the Coronary Valley is heavy on all kinds of artery-clogging fat and cholesterol, not just marbled steak. Many small-town cafes feature salad bars packed not with veggies but with macaroni and cheese, potatoes doused in mayonnaise and jello concoctions made with whipped cream.
"It's a rich, ridiculously heavy-on-the-fat diet," Whayne said. "It's appalling what they serve at Millie's Diner."
Regional grocery habits tell much of the story. While consumers in the West purchase far more fruit juice and olives than the rest of the country, Midwest shoppers stock up disproportionately on such goodies as pie filling, baking chocolate and potato chips. The South goes heavy on sausage and shortening, according to an economic study by researchers from the U.S. Department of Agriculture and Purdue University.
Shoppers in the Midwest and South actually spend slightly less on beef than consumers in the rest of the country, perhaps because they buy cheaper cuts, the study found. Yet they also spend dramatically less on heart-healthy fruits, vegetables and fish, according to a federal Consumer Expenditure Survey.
Sedentary way of life
In generations past, the effects of a high-fat diet may have been cushioned somewhat by all the hard physical labor that farm families did; exercise is an excellent promoter of heart health. But now machinery and hired help have eased the way for those still living off the land. Then, too, the fitness craze never really swept the Heartland, and what with blizzards in winter, floods in spring and fog-the-eyeglasses humidity in summer, there are plenty of excuses to postpone a jog.
Back at Arthur Bryant's, where the smell of barbecued pork could tempt the staunchest vegetarian, customers shoveling in the high-fat fare say they're aware of the risks and don't care.
"We've grown up on meat and potatoes. There was always a meat and a starch at every meal, and it just carries on to how we eat today," explained Greg Reeder, 34, a salesman who drove 3 1/2 hours from Nebraska for a beef-and-pork combo.
Sweating as he piled towers of meat onto white bread, barbecue cook Echols said he's eaten his creations every day since he was hired seven years ago. He plans to keep right on doing it, too, fat and cholesterol be darned. "Two, three, four meals a day here," he said with a satisfied grin. "I haven't gotten tired of it yet."
Copyright 2018 The Lawrence Journal-World. All rights reserved. This material may not be published, broadcast, rewritten or redistributed. We strive to uphold our values for every story published.