New York — Stocks ended an uneven session with moderate gains Thursday as investors vacillated between optimism and fear about the economy. The market also was trying to determine the likely impact of the change in leadership in the Senate.
The Dow Jones industrial average closed up 16.91 at 11,122.42, after falling 60 points earlier in the session.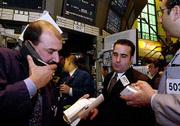 Wall Street's broader indicators followed the Dow's path, advancing late in the session. The Nasdaq composite index rose 38.54 to 2,282.02, while the Standard & Poor's 500 index moved up 4.12 to 1,293.17.
Thursday's trading was choppy from the start when Vermont Sen. James Jeffords announced, as expected, that he is leaving the Republican party to become an independent, ending GOP control of the Senate.
"Everyone is sort of going through their own analysis of what the effect the change in the legislature is going to have for various sectors in the market," said Charles White, portfolio manager for Avatar Associates.
But analysts said that the market's fluctuation mostly came amid unease over the health of the economy.
The economy and politics aside, stocks still managed to post widespread gains. Microsoft rose $2.02 to $71.72, and General Motors advanced $1.41 to $56.59. Home Depot moved up 83 cents to $53.45, and Intel rose 41 cents to $29.21.
Copyright 2018 The Associated Press. All rights reserved. This material may not be published, broadcast, rewritten or redistributed. We strive to uphold our values for every story published.