Pleasanton, Calif. — The Catholic Church Donna Carlton remembered was much different.
In the church of her childhood, Mass was in Latin, priests delivered sermons from the pulpit and the laity certainly girls or women were barred from ascending to the altar.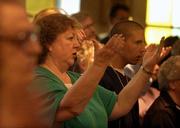 So Carlton, now 60 and a retired nurse in Pleasanton, didn't know what to make of it when, in the early 1970s, she encountered Mass in English, priests roaming the aisles, and altars no longer entirely off-limits. These changes, a result of progressive and controversial reforms spurred by Vatican II in the 1960s, were tough to accept.
"It was a big culture shock for me," Carlton recalled. "I wasn't sure how I was going to handle all this. ... I felt very left out, though I still believed in my religion, in my roots."
She drifted away, rarely attending church and never feeling like she belonged with a parish. In doing so she became a member of what some observers have called the nation's second-largest religious group an estimated 17 million inactive Catholics.
People drift from the Catholic Church for many reasons, religious experts say.
Some leave because they disagree with its traditions or tenets. Some turn away because of a slight by a church member or priest. Others mistakenly believe they are no longer welcome for example, because of a divorce. And church may no longer be a priority for families amid a fast-paced and stressful modern life.
"Sometimes Sunday's the only day of peace and quiet, and it's just hard to get up and go to Mass," said Joan Horn, national coordinator for "Landings," a program that reaches out to inactive Catholics. "And then if they missed Mass several times, they feel guilty about not going and they don't know how to get back."
Guilt isn't the only emotion that might be involved, Horn and others said. People considering coming to church again let alone deciding to do so might feel excitement and hope. They also might still feel slighted by the church or anxiety at the possibility of a cool reception.
"It might be difficult for them to step through the doors and immediately start worshipping on Sunday," said the Rev. Paul Minnihan, coordinator of evangelization for the Diocese of Oakland and associate pastor at St. Augustine Church in Oakland.
Asking the big questions
Many Catholic churches are trying to give people a reason to return, while remaining mindful of why they left. Through word-of-mouth, the Internet, airwaves and newsprint, churches are getting the word out about special programs some home-grown, others part of nationwide efforts addressing inactive Catholics' questions and feelings about the church.
At St. Isidore's Church in Danville, Calif., for example, a group of eight to 15 returning Catholics are in a 10- week "ReConnect" course.
"There's a movement in general, both inside and outside of established churches, toward spirituality of people asking themselves the big important questions," said Anna Horen, director of adult-based formation at St. Isidore's. "In the case of the Catholic Church, the church wants to again extend a hand to those members that have lost touch and to help them become more active."
Minnihan, of the Diocese of Oakland, said focused efforts along these lines began after Pope Paul VI's declaration in 1975 that the church exists in order to evangelize. That spurred America's bishops to issue a national plan for evangelization, including reaching out to inactive Catholics.
"For a long time the church presumed that people came, and often times we did not make our parishes welcoming parishes," Minnihan said. "And because of that people would fall through the cracks."
Shared anxieties
Three California churches St. Charles Borromeo, St. Augustine, and St. Elizabeth Seton together are patching the cracks. In the course of a 15-week "Returning Catholics" program, a group of 15 to 20 people discusses everything from why they left, to controversial church teachings, to details of church traditions, to the habits of pastors.
For some, it was the first time in decades they had confessed and the first time they ever had done so face-to-face with a priest. They talked about their experiences, laughed at their common anxieties and winked at their views of pastors.
"I was very overwhelmed at first," said Jerri Kurtz, 65, who said she had not confessed in 50 years. "I was very scared."
Returning Catholics teaches people about church tenets and practices and about what may have changed in the decades since they last were active. The strength of such programs is that the people leading the discussions listen more than lecture, church leaders said.
"Very often people don't get listened to anymore," said Horn, the Landings coordinator. "So it's very awesome to sit there and have these people listen to you."
In four or five years that Returning Catholics has been inviting people back, most people who take part in the program become active again, said Karen Miller, the program's overseer. For those who don't immediately return, the program tries to convey that the Catholic community is anxious to heal whatever has been broken and remains open to their return, she said.
Copyright 2018 The Lawrence Journal-World. All rights reserved. This material may not be published, broadcast, rewritten or redistributed. We strive to uphold our values for every story published.