Here's an easy way to serve salmon with a twist: It takes the place of a burger, sandwiched in toasted rolls, at the cookout.
This recipe for BBQ salmon sandwich comes from chef Randy Waidner of Chicago's Weber Grill restaurant. He suggests you serve it with asparagus and potatoes, which you can grill tastily over the same fire.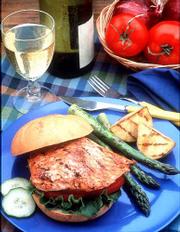 For seasoning, use a favorite prepared barbecue rub and sauce. A common rub that would suit salmon could be a combination of salt, sugar and pepper combined with chopped herbs such as dill or shallots, to suit your taste.
For diners who want wine with their meal, Waidner suggests a Chardonnay as a good complement to the salmon. The fresh fruity flavor of this white wine balances the spicy barbecue rub.
Waidner endorses the idea of having a glass of wine with barbecue.
"Forget the myth that wine is only for fancy food and that you have to drink soda or beer with grilled foods," he said, adding that wine can be a good match for most cookout fare.
Here are his tips for wine in the back yard:
Relax about the glass. The first thing to remember is that you don't need a fancy-stem glass to enjoy wine. If you're dining outdoors, even a plastic cup would do the trick.
Don't worry about leftovers. Wine will keep in the refrigerator for about three to five days. Just recork the wine after drinking a glass or two.
Mix and match. You can serve both red and white wine with your backyard barbecue. Both types are good with grilled foods; serving both will help you find out what combinations you like best.
---
BBQ Salmon Sandwich

Four 6-ounce fresh salmon fillets
2 tablespoons olive oil
1 tablespoon barbecue rub
2/3 cup barbecue sauce
1 red onion, sliced 1/4-inch thick
1 large ripe tomato, sliced 1/4-inch thick
4 leaves Boston or leaf lettuce
4 kaiser rolls, toasted lightly
Brush the salmon with the oil and season with barbecue rub. Sear the fish on one side for two minutes directly over the fire (direct heat). Turn fish over and sear for two minutes. Move fish to the side of the fire (indirect heat), baste with your favorite barbecue sauce and cook until done, about six more minutes.
Garnish with red onion, a slice of tomato and Boston or leaf lettuce, serve on a toasted kaiser roll.
Makes four servings.
Note: For a more complex flavor, the onions and tomatoes may be grilled. Just slice the onions and tomatoes 1/4-inch thick; season with salt and pepper and olive oil before grilling until lightly charred, about four to five minutes.
Nutrition information per serving: 550 cal., 22 g fat (3 g saturated fat) 480 mg sodium, 41 g pro., 95 mg chol., 46 g carbo.
---
Asparagus and Potatoes
16 large asparagus spears
4 medium Yukon Gold potatoes
2 tablespoons olive oil
Salt and pepper to taste
Clean and trim asparagus, season with olive oil, salt and pepper. Grill asparagus directly over the fire for about five minutes.
Clean and cut potatoes in quarters, season with olive oil, salt and pepper. Grill over low fire until tender, about 10 to 15 minutes.
Nutrition information per serving: 180 cal., 14 fat (2 g saturated fat), 10 mg sodium, 2 g pro, 0 mg chol., 13 g carbo.
Copyright 2018 The Associated Press. All rights reserved. This material may not be published, broadcast, rewritten or redistributed. We strive to uphold our values for every story published.