The rough and tumble of gym class isn't so rough-and-tumble anymore.
Dodge ball is a shadow of its former self.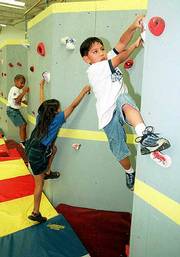 Many physical-education teachers now prohibit elementary school children from beaning classmates with welt-producing rubber balls.
"We use safe balls," said Reenie Stogsdill, gym teacher at Broken Arrow and Woodlawn schools in Lawrence. "We worry about safety and self-esteem."
Today's PE has lost its old vestiges of military boot camp. Children are more likely to be involved in activities designed to keep them from becoming the next generation of couch potatoes.
It's a kinder, tamer undertaking that dovetails with reading, writing and math. It's about education, not embarrassment. Wellness, not wind sprints. No more jeers and tears in the gym.
"Sports and physical education are different things, if you're talking about quality programs," said Jeff McAdoo, Quail Run School's physical education teacher.
Hall of Shame
Two professors of health and physical education at Emporia State University are leading the PE curriculum revolution in Kansas.
Joella Mehrhof and Kathy Ermler have made use of a $3.5 million grant from the Kansas Health Foundation in Wichita to write a progressive physical education curriculum for kindergarten through 12th grade. The K-5 segment is the last to be implemented and will be introduced to teachers this summer at six workshops across the state. The middle school and high school portions are already in place.
By the end of the summer, a total of 1,200 Kansas educators will have received training to revamp the way they teach PE.
"The goal is to teach kids the importance of being physically active and healthy for a lifetime," said Mehrhof, a fitness walker and aerobics instructor.
She said some well-known gym games were suitable for a Hall of Shame.
Dodge Ball is the No. 1 villain, she said, because it's inappropriate to use humans as targets. And research shows the less athletic kids were always hit the most.
"There's enough violence in the school. We don't have to contribute to it," Mehrhof said.
Other Hall of Shamers:
Kickball A few athletes dominate, leaving others to stand around. Children who don't want to play often try to make easy outs.
Red Rover Designed to dare the smallest student in class to run through a line of kids doing their best to break the student's neck.
Wiffle ball Teachers often do the pitching, which makes most kids passive participants.
Brave new world
Gary Johnson, the new principal at East Heights School and the Lawrence district's coordinator of physical education, can recall the heyday of dodge ball in high school.
"When I was in school, they had 50 or 60 half-deflated volleyballs that we threw at each other. The only thing that separated us was the midline," he said. "That is something that I wouldn't like to see in any school."
Archery, trampoline, gymnastics, musical chairs and the game Duck, Duck, Goose have been banished or are under siege. Some have been dumped for liability reasons, but others are too aggressive for most kids to enjoy.
Around the country, these are being replaced with line dancing, golf, bowling, in-line skating or adventure activities.
Traditional games remain, but are taught differently. Softball is no longer about making a perfect pitch. The goal is to promote overall fitness by playing a fun game of softball.
Even the means of picking sides are being reshaped to prevent damage to a child's self-esteem. No longer are teams split in an agonizing process that leaves one person standing.
"How does that make a child feel if they're always the last picked?" Johnson said.
The future of physical education, he said, was in activities that get each student's heart pumping and brain working.
One activity rock climbing is attracting converts in Lawrence elementary school gyms. A new wall at Broken Arrow was built by volunteers. Children also scamper across climbing walls at Quail Run, Sunflower, Deerfield, Langston Hughes and Wakarusa Valley schools.
Stogsdill said climbing walls helps children with upper-body strength, balance, flexibility, problem solving and motor skills.
"It really builds their confidence once they learn and climb across," Stogsdill said. "It builds strength. It's not the easiest thing to do."
Everybody's a player
Routes across a rock face can be mapped to match different climbing abilities. While some students are bound to be competitive in their approach to PE activities, the goal is to not lock everyone into a single track that defines success, Mehrhof said.
"You try to make it so all children can be successful at their own level," she said.
Regardless of activity, the objective is maximum participation. Programs are devised to pique lifelong interest in exercise.
"You want them to be physically active for a lifetime ... rather than hate physical activity," Mehrhof said.
Mehrhof said physical education shouldn't stop at the school's front door. Studies show the percentage of young people who are overweight has doubled in the past 30 years.
"Parents need to be involved in their children's physical activity and not allow them to sit in front of a TV and computer," she said. "Get them outside. Go walking with them. Throw the ball back and forth with them."
Copyright 2018 The Lawrence Journal-World. All rights reserved. This material may not be published, broadcast, rewritten or redistributed. We strive to uphold our values for every story published.