I was a guinea pig for the Kansas Highway Patrol. They served me seven screwdrivers and I drank them all.
It was a law enforcement training seminar at the Douglas County Jail. I was among six people who volunteered to spend an afternoon assisting the KHP in teaching other law enforcement officers to spot signs that someone has been drinking and to test for intoxication.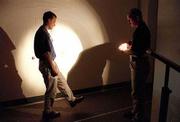 My job: Boost my blood-alcohol concentration to about .08 percent, the point at which Kansas law says a driver is drunk.
We were told to pick our poison. So I drank vodka with orange juice. Most of the five other volunteers drank beer. KHP officials told me I had nearly 12 ounces of alcohol by the time I was finished.
At first, I simply sat in a room, enjoyed my beverages and chit-chatted with my five new friends. The hard part was later.
Controlled environment
Law enforcement agencies conduct field sobriety tests virtually every day. And police officers need a safe place to practice the job skill.
"On the road is not the place to learn this," said KHP Lt. John Eichkorn. "Doing it in a controlled environment is much better and much safer for learning purposes. This way, it instills confidence in the officer so he or she's able to learn and make their stress levels go down. And when they're on the road, they'll be ready."
Federal grant money requires the KHP to conduct at least 16 training sessions per year, Eichkorn said. This year the agency likely will travel throughout Kansas to perform at least 20, he said.
I got drunk for a class of about a dozen officers from the Douglas County Sheriff's Department, the Lawrence Police Department and other surrounding law enforcement agencies.
"It's an excellent way to show officers how to describe what they're seeing, because they'll have to do it in court once they arrest someone," Eichkorn said. "They get to see the different stages a person goes through when they drink."
Like a faithful bartender, KHP training officer Ralph Denney kept bringing us drinks. He joked with us about previous training sessions. A few people had overestimated their tolerance and gotten sick. Only once had a person become belligerent, requiring his removal from the training.
Just as I was overcoming my nervousness about getting drunk in front of a bunch of cops, Denney asked us to prepare for the second part of our afternoon the field sobriety tests.
Walking the line
I flunked horribly. And that's good. The tests I went through showed me how little physical control one has when drunk.
The first test was the nystagmus test, or the follow-the-pen-with-your-eyes test. This test measures the involuntary twitching of a driver's eyes as he tries to follow the tip of a pen that an officer moves around in front of him.
The second test involved walking heel-to-toe along a strip of masking tape on the floor, placed to simulate a painted line on the side of the road. Officers instructed me to take nine steps, turn around, and take nine more to where I began.
I nearly fell over each of the six times I took the test. My observations of fellow volunteers told me they likely weren't passing, either.
The third test required me to balance on one foot, holding my other foot in front of me. Again, I lost my balance and had to stop the test several times before continuing.
A lesson learned
Denney warned that we would be surprised to learn what our blood-alcohol concentrations were. We each blew into a machine midway through drinking and then just before we performed the tests. At half-time, I scored .105 percent well over the legal limit.
Denney asked me before the test whether I thought I could drive. I thought for a second and concluded I could. But I told him no. Even at my elevated level, I believed I was capable of the split-second reactions a driver is required to make.
I was wrong, as shown by the tests I later flunked. A second breath test later reinforced the officer's point. I measured at .112 percent the highest in the class.
Denney said most people don't think they can drive after a few drinks. But as their alcohol consumption increases, so does their miscalculation of their abilities.
Copyright 2018 The Lawrence Journal-World. All rights reserved. This material may not be published, broadcast, rewritten or redistributed. We strive to uphold our values for every story published.