Seattle — Bret Boone got Roger Clemens in a hole and wouldn't let him out.
Boone doubled home three runs in the first inning after Clemens walked the bases loaded as the Seattle Mariners beat the New York Yankees, 6-2, on Sunday.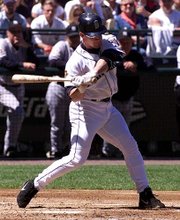 After Clemens threw 12 consecutive balls, Boone knew what to expect on a 1-0 count. He got a 94 mph fastball over the plate.
"I didn't want the count to go to 1-and-1," Boone said. "I looked for a fastball to hit."
Boone hit a line drive to center field, and the Mariners were on their way.
"To me, the first inning was the ballgame," Clemens said. "I don't know if I really cut it loose, but you try to get it in the zone obviously since I'm throwing the ball everywhere, but the strike zone, early."
The Mariners avoided a three-game sweep in the Yankees' only visit to Safeco Field this season. Seattle, which has the best record in the majors at 32-11, beat New York for the fourth time in six games this year.
Aaron Sele (6-0) matched the best start of his career. He also opened up at 6-0 as a rookie and Clemens' teammate with Boston in 1993.
In 72/3 innings, Sele allowed two runs on eight hits. He walked one, hit a batter and struck out two.
Pitching for his third major league franchise, Sele is 23-10 in his two seasons in Seattle. He couldn't believe his good fortune when the Mariners scored three times in the first.
"Anytime you get one run against Roger, it's nice," Sele said.
Sele has eight walks in nine starts and 57 innings. He had three walks in his last six starts.
"I'm just trying to stay consistent," Sele said.
Clemens (4-1) was a victim of his own wildness. He struck out nine for the second start in a row, but had a season-high five walks and threw his fifth wild pitch of the year. He allowed six runs on six hits in seven innings.
"I felt extremely strong and I needed to try and harness it," Clemens said. "I hate to go out there and spot them three runs. Then it's an uphill battle the rest of the day."
The Mariners took a 3-0 lead in the first after Clemens walked Mark McLemore with one out. After McLemore stole second and went to third on catcher Jorge Posada's throwing error, Clemens walked Edgar Martinez and John Olerud.
Boone, who leads the team with 43 RBIs, doubled to score all three runners.
"We beat a great pitcher and a great team," Boone said.
Rangers 3, Blue Jays 2
Arlington, Texas Pat Mahomes (3-2) won as a starter for the first time in 17 appearances since Aug. 6, 1994, allowing two runs and six hits in five innings. Juan Moreno, Mark Petkovsek, Mike Venafro and Jeff Zimmerman combined on three-hit relief, with Zimmerman getting four outs for his fourth save in five chances.
Devil Rays 10, Tigers 2
St. Petersburg, Fla. Greg Vaughn homered twice and Fred McGriff went 3-for-5 and drove in three runs as Tampa Bay stopped a five-game losing streak. Vaughn, who had a pair of solo shots, has three homers in two games and 11 this season.
Orioles 3, Twins 2
Baltimore Brady Anderson scored the winning run in the ninth on Fernando Lunar's sacrifice fly to second baseman Luis Rivas, easily beating the off-balance throw from the outfield grass. Minnesota, 8-1 in one-run games, was bidding to win a seventh straight series for the first time since 1992.
Athletics 6, White Sox 2
Oakland, Calif. Frank Menechino hit a three-run double off Keith Foulke in a six-run eighth as Oakland rallied from a 2-0 deficit to win its sixth straight. Tim Hudson (4-3) allowed two runs and four hits in eight innings and Jeff Tam pitched a one-hit ninth, sending Chicago to its sixth straight loss. White Sox starter Mark Buehrle retired the first 16 batters before Adam Piatt's double to shallow right in the sixth.
Angels 9, Indians 6
Anaheim, Calif. A throwing error by Jolbert Cabrera, starting at shortstop for the ailing Omar Vizquel, opened the door for Anaheim's go-ahead run and Benji Gil hit a two-run homer as the Angels beat Cleveland.
Copyright 2018 The Associated Press. All rights reserved. This material may not be published, broadcast, rewritten or redistributed. We strive to uphold our values for every story published.