They say one person's trash is another's treasure. But some Lawrence residents know that their trash can be transformed into personal treasure cash. All that's necessary is a clear spring day, an empty garage and a house full of stuff to fill it with.
With the right ingredients and proper organization, garage sales in Lawrence can be quite lucrative.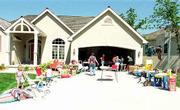 "People like them in Lawrence," said Karen Doue, while working her own recent and successful garage sale on Ohio Street. "I used to think it's because the university's here, but it's not the students."
It's everyone who's looking for treasures for tuppence, Doue said.
"There's nothing better than finding something that you like that's such a bargain," she said.
The motivation for having a sale varies, sellers said.
Doue has a garage sale with friends every two to three years, mainly to clear out things she doesn't want. Despite the bother of spending days preparing and pricing items, she said it's the fun of the event and the personal interaction she enjoys most.
David and Linda Roberts agree.
"It's not just a garage sale, it's a social event," said David Roberts, who organizes an annual garage sale at his home with other families for at least 10 years.
The Roberts' main motivation, too, is to wipe out their inventory of personal junk, which they joked must breed in closets during the winter.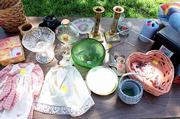 Besides a clean attic and social interaction, there's money to be made from a sale.
Earlier this month, the Roberts and four other families raked in $1,000 on the first day of their two-day sale.
Lori Justice, who had a garage sale on Hilltop Drive the same day, had similar luck.
"I just happen to have the stuff everyone's looking for," said Justice, who earned $450 in one day.
That "stuff everyone's looking" for includes baby clothing, equipment and toys, which Justice had neatly arranged along the garage and in large bins for a Saturday sale.
The items sold quickly from the time early shoppers arrived at 7:15 a.m., though the sale was advertised to begin at 8 a.m.
Top sellers include baby items, collectibles, electronics, computer games, old records, books, home decorations and holiday decorations.
But the price must be right and they often drop near the end of sales when sellers are ready to clear out the merchandise.
Price range depends on quality and is usually up for negotiation. However, 50 cents to $3 is the norm for clothes, toys are priced from 50 cents to $3 and electronics should sell for a few bucks, such as a $10 weed-eater at Doue's sale.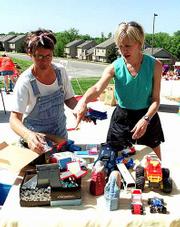 The price usually depends on how desperate a person is to see it sell.
"My stuff is all just priced to go," said Justice, whose upcoming move inspired low prices.
In addition to the right inventory and bargain prices, organization is key.
Doue said her sale received numerous compliments from shoppers for being so orderly and clean.
She had all the clothes cleaned, pressed and arranged by size. Remaining items were separated, neatly stacked or arranged and easy to find.
Well-stocked and well-organized garage sales are a good deal for both sellers and patrons.
And no time is a better time to buy or to sell than spring.
"After the winter, people are ready to get out," Doue said.
Copyright 2018 The Lawrence Journal-World. All rights reserved. This material may not be published, broadcast, rewritten or redistributed. We strive to uphold our values for every story published.