Goumois, France — Eight exhausted Swiss tourists, covered with mud but still wearing their cavers' helmets, emerged Saturday from a dank cave, three days after floodwaters trapped them underground.
Dozens of rescue workers broke into applause as divers brought out the first group, three young women, followed by the remaining five men. Some broke into tears upon emerging from the cave shortly before sunset.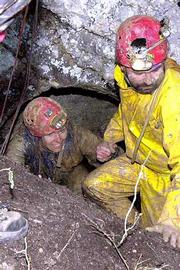 "Thank you for the help. Thank you for everything," one of the Swiss vacationers told LCI television.
Medical workers rushed to assist the eight weary vacationers, wrapping them in blankets. They were taken by ambulance to a medical unit set up near the cave in eastern France.
They were expected to be taken to a hospital in the nearby Swiss city of Delemont, said Alain Gehin, the top administrator of the Doubs region, where the cave is located.
The eight amateur explorers seven students and a teacher on a confidence-building trip had gone into the cave 2 miles from the Swiss border on Wednesday, despite warnings of bad weather. They were trapped by heavy rains.
Copyright 2018 The Associated Press. All rights reserved. This material may not be published, broadcast, rewritten or redistributed. We strive to uphold our values for every story published.