Salt Lake City — It had all the hallmarks of a Tour of Duty: a week in a rolling tin can with two teen-age boys and a husband the size of the bull moose we hoped to see during our visit to the American West. We wouldn't have to go to Colorado to find the town of Purgatory; it would be right there with us all the time as we toddled down the highway, turtle-like, in an RV.
For someone whose perfect vacation verges on extremes hiking a moonlit mountain with 25,000 pilgrims to witness a trance ceremony in a remote corner of Bali, or meeting at the Crillon in Paris for tea the very idea of camping in a motor home was cause for dark depression. My knowledge of this RV stuff was limited to a post-college period when my retired father insisted on buying one; after two seasons of rolling through Florida, my stepmother refused to set foot in one again.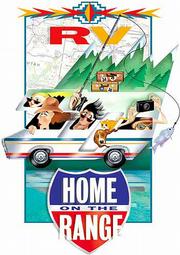 So imagine my chagrin when I actually LIKED it.
For one thing, the motor home was incredibly convenient. No raincoats, fishing lures or cameras left back in the hotel room; they were in the cabinet over the bed. No greasy burgers from the fast-food window; lunch meat and fresh tomatoes were in the fridge right behind me. No arguments over stopping for a bathroom break; the toilet was right there.
It also was surprisingly comfortable. Our rental unit was cleverly organized, with a door that allowed my husband and me to move in privacy between the snug bedroom, toilet and shower.
And though renting the RV wasn't cheap $1,355 for a week out West in the busy summer season, plus gas and taxes our food costs were much lower than if we'd eaten in restaurants.
Near to nature
"This is the way to travel," said Devin, 13. "You can stretch your legs, use the bathroom and eat whenever you want."
Plenty of people agree with him. The United States is home to 30 million RV enthusiasts, claims the Recreation Vehicle Industry Assn. One in 10 households that owns a vehicle owns an RV, and the owners aren't just retirees; almost 50 percent are between 35 and 54.
Part of the appeal: proximity to nature.
"We camp a lot," said Heidi Thompson of Jupiter, Fla., who was picking up a rental RV in Salt Lake City with her husband and three children, ages 8, 10 and 12. "At first we were going to stay in hotels, but we like the idea of being outside."
Because the boys are teens, we reserved the largest RV Cruise America offered, a 30- foot bus built over an easy-to-drive automatic truck that accommodates a family of seven if your children are small or you're all on very close terms. For the four of us, the space worked well, with parents in the master suite in the rear, a 6-foot-plus 17-year-old in the queen bunk over the cab, and the 13-year-old in the bed created when we pulled down the kitchen table.
By day we stopped at scenic overlooks, attended ranger talks at Yellowstone and Grand Teton national parks, cantered across the fields on horseback and splashed down the Snake River on a raft. When dark approached, we claimed our pre-booked camp site tucked amid trees near a lake or stream hooked up our water hose and fired up the coals in our new grill. By night, we attended ranger presentations around a campfire, played cards around the table in our snug turtle shell or went off to dinner.
Wherever we went, we had plenty of company. The biggest campgrounds held hundreds of sites filled with RVs, pop-up campers surrounded by lawn chairs, smart-looking tents big enough for a Scout troop, kids on bicycles, dogs.
Aware that we had so much company in these peak summer months, we left each morning just after sunrise, hoping to dodge traffic and perhaps catch a glimpse of elk, deer or moose. Thanks to the RV, this caused minimal hassle: No need to rouse grumpy teens.
This also allowed us to claim a site in one of the first-come, first-serve campsites that were often more serene than those dedicated to RVs.
Copyright 2018 The Lawrence Journal-World. All rights reserved. This material may not be published, broadcast, rewritten or redistributed. We strive to uphold our values for every story published.