Wichita — Irma Wassall won her "Oscar" at age 92 a Governor's Arts Award.
The Wichita woman admits she didn't sleep much the April night after receiving the honor for her contributions to Kansas literature, more than 70 years of poetry and a spirit that has connected generations of artists.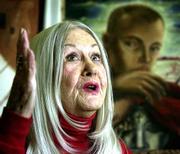 She brags that her acceptance speech was the shortest of all the recipients. She mentioned briefly that she was among a handful of Kansas writers to win such an award.
"I have no words adequate to tell you what this award means to me," Wassall told the audience at the ceremony.
"It is my Oscar, my once-in-a-lifetime moment supreme. You cannot imagine how happy you have made me."
Some Kansas artists might think the state was finally returning the favor.
"It's just her spirit," said Washburn University professor and author Thomas Averill, who is preserving Wassall's work at the Topeka school. "She was great friends with a lot of artists.
"Her longevity is amazing. How many people her age are just practicing their art?"
l
Wassall's hair is long and silver. Her nails are painted to match. Her friends don't hesitate to call her "beautiful" a compliment she shrugs off with half a smile.
Wassall's mother taught her to read and write at age 4, and immediately the future poet began authoring stories.
"I'd show them to my mother and she'd say, 'That's sweet honey, now go and write another one,'" Wassall said.
Wassall moved to Wichita from New Mexico in 1927 when she was 18. She began writing poetry in the early 1930s after reading a poem in a magazine.
She repeats the poem, her conversational tone shifting to the smooth cadence of a recitalist: "I am to you as an ivory cigarette, held to your lips while the flavor lasts, then cast away into nothingness. If I were the last in the pack, would you treasure me?"
"After I read that, I jumped up and said, 'I can do that,'" Wassall said.
She did. More than 1,000 of her poems have appeared in newspapers, magazines, anthologies and her six collections of published poetry. Her first collection, "Loonshadow," was published in 1949; her latest, "The Ruby-Emerald Jungles," in 1999.
When newspapers published poetry regularly, Wassall's work appeared in papers including the New York Times, the Denver Post, the Detroit News and the Washington Evening Star.
Wassall's friend and poet Grace Becker, of Newton, said Wassall is Kansas' unofficial poet laureate.
"Irma can take the cobblestone streets and ancient cathedrals of Mexico or the drumbeat and rituals of old Africa and turn them into exquisite word-paintings," Becker said.
Wassall also captures the simple, as in her poem "All Lips": "All lips are lovers, fated; never to be far apart, not separated; even in death."
l
Wassall's small apartment in Wichita is decorated with paintings by Fred Wassall, her late husband of about 40 years who died in 1970.
Irma Baier met Fred Wassall shortly after moving to Wichita. The painter from England and the soon-to-be poet inspired each other's art.
"He made pictures for my poems," Wassall said. "I wrote poems about some of his pictures."
Curt Clonts, a Wichita artist and friend of Wassall, said the couple's work matched well.
"His is kind of a surrealist style," Clonts said. "Her work went so well with that. It's amazing how well her work goes with modern art."
Clonts organized a show last year with more than 25 artists. Each presented a work a painting, sculpture, song or dance inspired by a Wassall poem.
"She's one of the oldest, wisest artists in Kansas," Clonts said. "She's a gifted and extraordinarily beautiful woman."
Wassall prefers a typewriter to the electronic word processor collecting dust in the corner of her apartment. A microwave in the living room doubles as a plant stand.
"My life is a losing battle against clutter," she said, laughing. "I'm still trying to put what's left of my life in order it's a shambles."
She mentions a box of poems handwritten and waiting for her to type. Three books she has written also wait for a publisher.
While she waits, she writes. She has abandoned dancing, guitar, singing and drama performances, though she offers some private tutoring.
Yet Wassall is quick to say she hasn't done enough with her life because there hasn't been enough time.
"I've worked all my life," she said.
Her jobs include stints as a secretary and bookkeeper in many Wichita offices, including those of the mayor, city engineer and aircraft giant Boeing Co.
Wassall Street on Wichita's south side is named after her, though she downplays the compliment.
"I looked at the map and said it runs straight into the disposal plant," she said.
Averill, the Washburn professor, makes one prediction about Wassall: "She's going to keep writing."
Wassall agrees.
"I haven't done enough," she said. "It's hard to get around to everything."
Copyright 2018 The Associated Press. All rights reserved. This material may not be published, broadcast, rewritten or redistributed. We strive to uphold our values for every story published.