Two retired Lawrence women with 92 years of community service between them were honored Thursday.
The Lawrence Kiwanis Club bestowed its highest honor on Hilda Enoch and Dr. Helen Gilles for their contributions in Lawrence. The women were named the club's 2001 Substantial Citizens.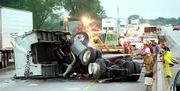 In 1960, the late Dr. E. R. Ebel started the award to recognize individuals for their contributions to Lawrence. The other criterion is nominees must be 55 years old or older.
Gilles opened her Lawrence pediatrics practice in November 1948 at a time when women were returning home after World War II. She continued her practice for 35 years while she also served as a part-time physician at the Indian Health Center at Holton and the health centers at Haskell Indian Nations University and Baker University.
"My dad was a farmer, and growing up I always heard 'when you go off to college,' not 'when you grow up and get married,'" said Gilles.
Gilles served as a Girl Scout troop leader for several years, was on the board of directors at Independence Inc. and Children's Hour and currently serves on the board of advisers at Lawrence Presbyterian Manor and the Lawrence school district's Friend Program for troubled students. She also served two terms on the Lawrence school board in the 1960s and 1970s.
Enoch was a teacher before she became a community activist and volunteer. After she and husband, Jacob, moved to Lawrence in 1962, she taught for 11 years at Central Junior High. Then, she became involved in several organizations.
"Hilda is one of those people who retired but never really retired," said Rusty Thomas, a past Kiwanis Club president.
Enoch started Small World, a program designed for the wives and children of foreign nationals attending KU. She has been a member of Habitat for Humanity, Mother-to-Mother, Lawrence Partnership for Children and Youth Neighborhoods Action Group. She currently is involved in Coalition for Homeless Concerns and Kaw Valley Living Wage Alliance.
Copyright 2018 The Lawrence Journal-World. All rights reserved. This material may not be published, broadcast, rewritten or redistributed. We strive to uphold our values for every story published.