Martin Sexton is going places. Currently, he's going there in a Toyota Land Cruiser pulling a trailer. The destination? His management hopes it will be Madison Square Garden, though if he makes it there, its unlikely he'll still be touring with an entourage of three in a sport-ute. This past Monday night it was the more modest Bottleneck here in Lawrence that was the beneficiary of Sexton's able talents.
The diminutive Sexton, looking much less studiously disheveled than on the cover of his second Atlantic Release "Wonder Bar," performed in an "evening with" format, meaning that he performed without benefit of an opening act. None however, was necessary. The personable performer quickly won over the intimate weeknight crowd with his polished stage presence.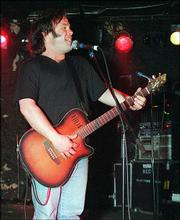 The Boston-based singer/songwriter performed on acoustic guitar, with skillful assistance by drummer Joe Bonadio. As a singer, Sexton is truly gifted. He has a masterful falsetto and the fearlessness to employ it often, but his range also descends to a rich baritone and down to a menacing growl. As a songwriter, Sexton is a chameleon, incorporating a variety of styles to convey his muse.
Leaning mainly on a variety of Tin Pan Alley and rhythm and blues styles, Sexton only occasionally played anything like rock music. Songs like "13 Step Boogie," more of a shuffle actually, invoke such other masters of the pastiche as Steven Bishop and Dan Hicks. The tune features an amusing "mouth trumpet" solo and ends with a Cab Calloway inspired call and response.
The ripping and clever song "Diner," a meditation on road food suggested Al Green performing a Bobby "Blue" Bland song, and displayed Sexton's talent for absorbing and recycling the vocal stylings of his most obvious influences.
When Sexton isn't parading styles, he's got some poetry in him. The confessional "Women and Wine," a bonus track on the re-release CD of one of his self-produced cassettes was far and away the best song of the night, followed closely by the next song he performed, "Candy," a song about an encounter with a street girl.
These flashes of brilliance we followed by the overly hip "Diggin' Me" which seemed like an overworked homage to David Frishberg or Louis Prima.
During an interminable jam that followed "Gypsy Woman" to finish the set, Sexton interrupted the song's Moorish inclinations to perform the only rock and roll of his two hour show, the Beatles' "Helter Skelter." His delivery was mellow, and the "guitar" solo he hummed into a distortion-laden microphone was just a little silly. The endless jam resumed, and seemed needlessly prolonged.
His encores were "Hallelujah" and "Black Sheep," two songs that combined, made a gospel choir loft of the Bottleneck.
Sexton's gifts are considerable and his failings few. His meticulously constructed persona could stand a better sense of relaxed spontaneity. One gets the sense that he knows all the tricks for winning over an audience in a rock club or coffeehouse. One gets the sense of a mask. It might be a little more interesting to check back in on Martin Sexton when he tires of wearing it.
Copyright 2018 The Lawrence Journal-World. All rights reserved. This material may not be published, broadcast, rewritten or redistributed. We strive to uphold our values for every story published.