Overland Park — Sprint Corp.'s latest hire makes some guests at the company's new, multimillion dollar campus a little nervous.
But then, that's her job.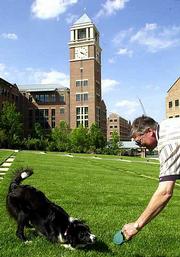 Shayla the border collie joined Sprint earlier this month as its designated goose hater, er, herder.
Her job: Find Canada geese. Make life miserable for Canada geese.
So far, the dwindling goose population at the lush 240-acre world headquarters in Overland Park seems to show that Shayla's doing her job and then some.
"Her presence alone has had a major influence," said Robert Mayer, Sprint's facility manager.
It became clear to Mayer that Canada geese were going to be a problem at Sprint when he noticed up to three dozen of the large birds showing up and leaving their messes all around the site.
He had heard about border collies being used on golf courses to get rid of geese. He liked the idea because it seemed effective and because the dogs don't trap or injure the birds; they just herd them and encourage them to move on.
"They see her as a predator, and they don't get comfortable where we don't want them to be comfortable," Mayer said.
Sprint, the nation's No. 3 long-distance carrier, is building a large wetlands area in a corner of the campus. When it's finished next fall or winter, Mayer said, Canada geese and other wildlife will be welcome in that area. And that's where he wants Shayla to keep them.
Sprint bought Shayla from Flyaway Farm and Kennels in Reidsville, N.C. Rebecca Ryan, owner of Flyaway Farm, said border collies were being used to shoo away birds at airports, golf courses and other corporations around the country.
"One goose goes to the bathroom every 15 minutes. You take 25 birds, and you sit them in one place grazing for an hour, that's 100 piles of goose crap in one spot," Ryan said. "It makes a nasty mess."
There are also other drawbacks to having herds of geese patrolling your property.
"In nesting season they are highly aggressive. I know several people who were out at Sprint this spring and got attacked by geese," Ryan said.
Mayer wouldn't say how much Sprint paid for 19-month-old Shayla, but Ryan said the goose-chasing variety of border collies generally run about $3,000. Airport border collies, who have to chase more varieties of birds, can go for up to $7,000.
Mayer said that Shayla, who's been spayed and should be able to do her job for about 10 years, would patrol with one of four handlers a few times a day, always responding to commands. She won't be roaming around the campus on her own.
Copyright 2018 The Associated Press. All rights reserved. This material may not be published, broadcast, rewritten or redistributed. We strive to uphold our values for every story published.