Mixed signals over the direction of the economy do more than keep investors on edge and Alan Greenspan employed. They also keep the phones ringing for people such as Eileen Marolla and Steve Broadwell.
Marolla and Broadwell are investment advisers. They counsel people on the vagaries of a mortgage loan for most people, a loan that makes possible the biggest investment they will ever make.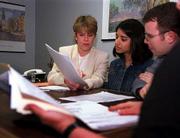 And they aren't just helping people buy houses. When mortgage rates dip, as they often do when the economy weakens, just about everybody in the mortgage-loan business spends lots of time giving advice to homeowners about refinancing their home loans.
"The basic question is always the same: They want to know if it's worth it to them to refinance," said Broadwell, an independent mortgage broker and president of Assured Funding Inc., of Elkins Park, Pa.
Is the time right?
To Broadwell, the answer is almost always a definitive "it depends."
"Because every person's situation is completely different," he said.
Even with 30-year fixed-rate mortgages available at 7 to 7 1/4 percent, the answer is not always obvious.
Among the factors to consider are whether you will remain in the house long enough to recoup application fees and closing costs that, for a $200,000 loan, easily can top $2,000.
Another is the length of the loan: If you already are 10 years into a 30-year loan, refinancing with a new 30-year loan will have you paying 40 years' worth of interest. A good alternative might be refinancing to a 15- or 20-year loan or even using the lower rates as a spur to make a move.
"They may be better off buying a new home instead," Broadwell said.
Well considered and well timed, the decision to refinance a mortgage can save thousands of dollars in interest payments over the life of a 15- or 30-year loan.
But just like investors seeking to time the stock market perfectly and buy when, say, Intel or Microsoft hit bottom, homeowners can outguess themselves on when to refinance. As with stock prices, the mortgage market's bottom is visible only in hindsight.
"There are still people waiting for a certain interest rate where they'll be ready to rock and roll," Marolla said. "A lot of people want rates in the 6's with no points for a 30-year fixed."
Get her going on the subject, and Marolla, a loan officer at Philadelphia Financial Mortgage Co., a division of Blue Bell's Madison Bank, can talk in the rapid-fire jargon of a commodities trader not about pork bellies, but about customers waiting to jump on a 30-year fixed-rate loan with interest below 7 percent and no "points," the lump-sum interest assessed in advance under some loan contracts.
Economic weakness tends to drive mortgage rates down, and recent months have been no exception.
In the seven weeks after Thanksgiving, as signs of trouble emerged and the stock market began to make bearish sounds, the average interest rate for a 30-year mortgage declined more than three-quarters of a point, from 7.73 percent Nov. 22 to 6.89 percent Jan. 11.
Since then, the trend has been, well, hard to call a trend. Rates have climbed a little, dipped a little, climbed a little, dipped a little. In the last month, they have been slowly climbing again to a national average of 7.01 percent for the week ending May 4, down from 7.14 percent a week earlier, according to the Mortgage Bankers Association of America's Weekly Mortgage Applications Survey, which covers about 40 percent of all U.S. retail residential mortgage originations.
As a result, refinancing has boomed.
Refinancing surges
In recent months, roughly half of mortgage applications have come from people wanting to replace higher-rate mortgages, said Robert Van Order, Freddie Mac's chief economist.
Has the boom passed? Hardly, Broadwell said. In fact, he said his refinancing business has doubled in the last month, thanks to a common misconception about the economics of the mortgage market: that mortgage rates are tied to the short-term interest rates controlled by the Federal Reserve.
Broadwell said refinancing inquiries and applications surged as homeowners learned of the latest efforts by the Fed to bolster the economy by cutting short-term rates. The central bank trimmed rates by half a percentage point March 20 and another half a point April 18 the third and fourth such cuts of the year.
The Fed's cuts may have some small effect on mortgages, by slightly lowering the average cost of money, Van Order said.
"In general, what happens is that when short rates move, long rates move in the same direction, but not by as much," he said.
But the irony is that this year's short-term cuts may be a key reason that mortgage rates have been inching up and why those considering refinancing may not want to wait much longer.
That's because mortgage rates tend to move in tandem with interest rates on 10-year Treasury bonds, and because different sets of factors drive short-term and long-term rates sometimes even in opposite directions.
In periods of economic uncertainty, investors' money tends to flow from stocks into bonds, raising bond prices and lowering their yields. A weak economy also tends to lessen fears of long-term inflation, making investors more willing to purchase lower-yielding bonds or packages of resold mortgages.
As the economy and stock market strengthen thanks, in part, to stimulus from cuts in short-term rates the opposite occurs. Money flows back from bonds into stocks, forcing bond issuers to offer higher yields. And investors are more likely to fear inflation, and therefore demand higher yields on bonds or other investments, such as mortgages.
The interplay of so many factors is what makes the mortgage market so hard to predict, even to those who study it full-time.
Unpredictable predictions
Each week, Bankrate.com surveys mortgage experts for predictions on which way mortgage rates are headed, to guide borrowers trying to decide whether to lock in a rate. Last month, they were split nearly evenly, with 37 percent predicting rates would drop, and 42 percent predicting a rise.
In one breath, Freddie Mac's Van Order embraces both points of view.
"They may come down some, but they're probably not going to drop a lot now," Van Order said.
But Van Order is unequivocal on the broader question of whether homeowners have missed the boat if they haven't yet acted.
"This is still a good time to refinance," he said.
For those considering refinancing, Van Order said, developments such as no-point loans and widespread access to amortization calculators have made the process much simpler to understand.
"The market is very user-friendly," he said. "With a lot of lenders, you can do refinancing over the phone. They'll just tell you when to show up and sign the papers."
Copyright 2018 The Lawrence Journal-World. All rights reserved. This material may not be published, broadcast, rewritten or redistributed. We strive to uphold our values for every story published.