Melissa Chapman did a double take Saturday as she drove by the Westside 66 filling station.
The sign advertised gasoline for $1.29 per gallon. It was an offer she couldn't refuse.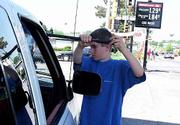 "I'm not passing that up, not when they're talking about $3 by the end of the summer," the Lawrence resident said.
Chapman wasn't alone. More than 300 drivers took advantage of the cheap gasoline from 11 a.m. to 1 p.m. Saturday at the station, 2815 W. Sixth St. Heartland Community Church, 619 Vt., decided to "buy down" the price of the gasoline, which otherwise would have sold for $1.74 per gallon.
"We like people to benefit from what we do, and it's really fun for us to share God's love this way," church member Christi Lanier explained. "It's not an advertisement (for the church), not really. God wants us to show his love."
The church pledged $1,000 toward the event, but the discount on the 3,170 gallons sold totaled $1,413. Station owner Richard Haig picked up the tab on the extra $413.
"It was worth it," Haig said. "It was a good time."
The service station looked like a carnival. Some church members handed out soft drinks and balloons while others washed windshields. Members holding posterboard signs lured drivers.
They also handed out slips of paper telling about the church and why its members decided to do the gasoline "buy-down."
One woman arrived at the station at 9 a.m. and read a book until the promotion began two hours later. Another man's car ran out of gasoline as he waited in line. Service station attendants had to fill up a gas can to last him until he could get to the pump.
Cars lined up south of the station along Schwarz Road. At one point, the line of cars stretched three blocks. Most drivers waited about half an hour for their gasoline.
But drivers said it was worth the wait.
"It's outrageous," Jason Stalkfleet said of gas prices. "I've got this car and a truck, and I'm about to take out a loan so I can fill them up. It's a good chance to get some cheap gas."
Sheryl Fisher, another Lawrence resident, agreed.
"I looked at my gas tank and decided it was worth the wait to come," she said. "It think it's pretty neat. I wish other people would do something like that. I need to save money. I've got six kids to spend money on."
The Rev. Paul Gray said the event seemed to make a difference for those who stopped by.
"It was great," he said. "I didn't envision that many people. I didn't envision we'd help people that much. It went without any flaws, and people seemed to appreciate it."
Copyright 2018 The Lawrence Journal-World. All rights reserved. This material may not be published, broadcast, rewritten or redistributed. We strive to uphold our values for every story published.