More than 15 years ago, Margaret Carr was working long hours in the corporate world. Deadlines and stress started to get her down, and her workouts were getting a bit tiresome.
"I'd done lots of physical exercise, but they just became repetitious," said Carr, who had switched from running to swimming to ease the stress on her joints. "I had done everything."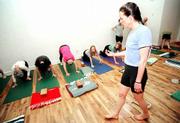 Then her sister encouraged her to take a yoga class.
"I went to one class and never stopped going," Carr said. "It really helped me handle stress and put more balance into my life."
That was in 1984. Today, Carr is owner and a certified instructor at the Yoga Center of Law-rence, 920 Mass.
Carr said people usually come to her yoga classes because they've heard it can reduce stress, help an injury or simply make them feel better.
After one or two classes, Carr said most people notice improvements in flexibility, strength and coordination. They also find emotional benefits, including an increased sense of well-being, calmness and patience.
"It works on the body to bring some stillness and quietness to the mind," she said. "As a practitioner and teacher, I think people get it once they really start doing it."
For many, yoga is also a reflective journey, she said.
"It is about the spirit, not about perfection in a pose," Carr said. "But you don't bring in a specific set of religious beliefs. Yoga transcends any race or religion. It's all very low-key."
And in a rush-rush world, that's especially important.
"I think everybody appreciates being able to sit quietly for a moment, close your eyes, be still and let the mind cease its chatter and look within a little bit," she said.
Whether for worship, meditation or stress reduction, yoga has participants coming back for more, Carr said.
"You change how you react to other people, how you react to circumstances in your life," she says. "Yoga teaches us that the divine, the spirit, is within us."
Copyright 2017 The Lawrence Journal-World. All rights reserved. This material may not be published, broadcast, rewritten or redistributed. We strive to uphold our values for every story published.