London — It's more than a grammarian could bear.
"Apple's and pear's for sale," read greengrocers' signs in towns and cities across the land. "Chip's and pea's" offered menu boards in countless pubs.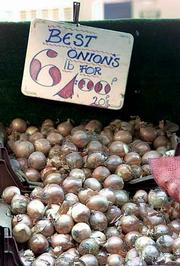 One day, retired copy editor John Richard had seen enough. He would not suffer this apostrophe atrocity in silence.
With right on his side, Richard and his son, Stephen founders of The Apostrophe Protection Society set out to enlighten local merchants in their northeastern county of Lincolnshire.
Butchers, greengrocers, supermarket managers and even a librarian received polite letters drawing their attention to displays of aberrant punctuation and setting them straight on the difference between plural and possessive.
"We do not intend any criticism, but are just reminding you of correct usage should you wish to put right the mistake," the letters said.
The duo soon discovered they were not alone.
"I had nearly 50 letters today through my front door, all supporting us," 75-year-old John Richard said.
"They don't think the apostrophe and grammar are taught very well these days," he said. "They see the language declining. And, it's quite a good language."
The burst of support followed a front-page report in Tuesday's edition of The Daily Telegraph. By Wednesday, 13 letters about apostrophes had nudged aside other outrages in the letters column.
"Needless to say, Romford Market is alive with surplus apostrophes," wrote Ian Wilkes of Romford, southern England. "My favorite, to date, is Golden Deliciou's."
Mike Barnard wrote from Little Wratting in Suffolk County to say, "A local cafe serves Chip's, Sausage's, Roll's, Egg's and everything else with an apostrophe but calls itself Bennys Cafe."
The Daily Telegraph threw its editorial support to the apostrophe against an outgoing tide of standards.
"Some experts accept the decline, arguing that language is like a shark if it stays still, it dies," the newspaper said. "This sort of relaxed approach is fine, as long as what the writer is saying can be understood the point of good language."
Without correct use of apostrophes, it continued, "it would ... be impossible to know whether the Pedant's/Pedants' Society was a brave one-man band, or if there were quite a few of them out there."
Copyright 2018 The Associated Press. All rights reserved. This material may not be published, broadcast, rewritten or redistributed. We strive to uphold our values for every story published.