Accra, Ghana — Hundreds of youths returning from a funeral for Muslims killed in Africa's worst soccer disaster vented their anger Friday, attacking a police station and destroying kiosks in a working class neighborhood.
The youths had come from a funeral service for 30 people killed in a mass stampede Wednesday at the Accra sports stadium. A total of 126 people died in the crush.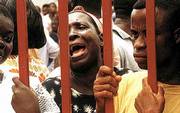 Survivors say the disaster began when police fired tear gas at fans who were throwing bottles and chairs on the field at the stadium, sending a panicked crowd stampeding to the main gates only to find them locked.
The incident has led to a public outcry against police in the west African nation.
Witnesses said the rock-wielding youths surrounded the Nima police station and pelted the building with stones. Police fired warning shots into the air and the youths ran away, only to regroup and block off a main road.
"In the name of Allah we don't want police," they chanted.
The standoff continued for several hours after military reinforcements arrived in jeeps and cordoned off the police station.
As night fell, soldiers patrolled the streets around Nima, a densely-populated low-income neighborhood that is predominantly Muslim.
Copyright 2018 The Associated Press. All rights reserved. This material may not be published, broadcast, rewritten or redistributed. We strive to uphold our values for every story published.