The coalition opposed to building a new route for U.S. Highway 59 released its own environmental impact statement Thursday.
The report by Joe Collins, a well-known expert on Kansas' amphibians and reptiles, showed there would be less impact on wildlife if the Kansas Department of Transportation were to expand the existing roadway instead of building a new one to the east.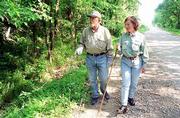 Collins, Kansas University herpetologist emeritus, has an environmental consulting firm, JTC Enterprises.
The study, commissioned by the Franklin-Douglas County Coalition of Concerned Citizens, compared the present route to the alternative of building a new route 1 mile east of the highway.
"The bottom line is we have a fair EIS that says 59 should be improved on 59," said Caryn Goldberg, coalition spokeswoman. "We feel a new freeway would hurt people, especially farmers, economically. It would harm historic sites and destroy native prairie and wildlife."
Collins made nine trips between June and October 2000 along the two routes between Lawrence and Ottawa. He assessed the potential habitat for 12 kinds of vertebrate species deemed threatened or in need of conservation by the Kansas Department of Wildlife and Parks.
"On the basis of simply the natural environment and the nature of some of the sensitive species, it came down that the existing route would be far better served by expanding the existing highway," he said Thursday.
Though the study's results mirror what the coalition advocates, Collins said he was as honest and straightforward as he could be. He said it would be difficult to skew the findings.
If endangered or threatened species are detected in a possible construction area, KDOT must receive a permit from Kansas Department of Wildlife and Parks before proceeding.
The Franklin-Douglas County Coalition of Concerned Citizens found that plans for U.S. Highway 59 south of Lawrence involved "possible habitat" for these threatened species or species in need of conservation:Spotted sucker fish; tadpole madtom; crawfish frog; common map turtle; broadhead skink; eastern hognose snake; redbelly snake; smooth earth snake; and timber rattlesnake.The coalition found no habitat for these threatened fish:Chestnut lamprey; hornyhead chub; and Topeka shiner.
Goldberg said she hopes KDOT will takes the coalition's study into consideration while conducting its own EIS.
"We want to work together in a cooperative way," she said. "It's been kind of adverse."
KDOT spokesman Marty Matthews said the department hopes to release a draft EIS in June, which has been in the works since last spring. The state study, done in part by the Kansas Biological Survey, was supposed to be finished late last year.
"One of the reasons it's taking longer than usual is we're being as thorough as possible," he said.
Matthews said KDOT's study should cover everything, but will take into consideration differing views.
"We appreciate the input and any and all input we can get," he said.
Copyright 2018 The Lawrence Journal-World. All rights reserved. This material may not be published, broadcast, rewritten or redistributed. We strive to uphold our values for every story published.