Broken Arrow Park will become a smoke-packed carnival of barbecue decadence this weekend for the 3rd annual Sertoma Barbecue Cook-Off.
Trucks and motor homes pulling vehicle-sized grills will take over the park today in preparation for Saturday's judging and naming of Kansas Barbecue Grand Champ.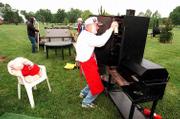 "It's amazing what happens in 24 hours," said Dee Bisel, Lawrence president of the Sertoma board of directors. "It's going to be wild."
The cook-off will raise money for speech- and hearing-impaired residents.
Though the Sertoma Club fund-raiser traditionally raises about $2,500, Bisel expects proceeds to top $10,000 this year as a result of increased sponsorship, advertising and new activities.
In addition to the cook-off competition and sampling, new activities include a "Wind Wizard" precision kite show Saturday afternoon and barbecue lessons by seven-time world barbecue champ Paul Kirk.
Activities Saturday at the Lawrence Sertoma Club Barbecue Cook-Off at Broken Arrow Park, near 31st and Louisiana streets:Chris Cakes all-you-can-eat pancake, sausage and drink feed, 7-9 a.m., $4.50 per person.Barbecue cook-off sampling, 11 a.m. to 2:30 p.m., $4 per person.Backyard barbecue lessons, 11 a.m. to 2 p.m., $5 per person.Wind Wizards precision kite show, 11 a.m. to 2 p.m., free.
While novices learn the tricks of the trade, 40 teams of barbecue connoisseurs will be competing for the title of state champion. The winner automatically advances to the American Royal barbecue contest in Kansas City, Mo.
Fifty Kansas City Barbecue Society and local celebrities will evaluate brisket, pork, ribs and chicken on appearance, taste, tenderness, texture and other characteristics.
Copyright 2018 The Lawrence Journal-World. All rights reserved. This material may not be published, broadcast, rewritten or redistributed. We strive to uphold our values for every story published.