When 12-year-old Heather Brady of New Windsor, Md., first told her friends that she was a baton twirler, they thought that she marched in parades.
"When they come and see my performances, they see it's a lot harder than that," said Heather, a seventh-grader who's a member of a team called the Wheaton Majorettes.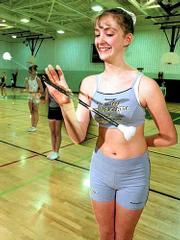 For Heather and the Wheaton Majorettes, baton twirling is more than high-stepping in front of a marching band. The two- to three-minute routines they do in competition are part ballet and part gymnastics.
Heather has been twirling since she was 5 years old, and she and her teammates take the activity very seriously. Sixty girls between the ages of 4 and 21 gather to practice three to five hours a day, six days a week. They have performed at MCI Center in Washington and competed nationally the team has won the National Baton Twirling Assn. championship title many times.
One basic baton-twirling move is the "finger twirl," where the baton weaves through the fingers, spinning like an airplane propeller. Another is the "thumb toss." You take the baton in your hand, thumb toward the bigger rubber end, then roll the baton clockwise over your thumb with your palm up, snapping your wrist to bring the baton back around.
From there things get complicated: Some majorettes can toss their batons 30 feet into the air. Good hand-to-eye coordination is important.
Twelve-year-old Danielle Van Scoyk's favorite trick is called "five blind."
"You have to toss the baton, then spin your body five times, then catch the baton behind your neck," said Danielle, a seventh-grader.
All the members of the Wheaton Majorettes are girls, but other teams have boys. (The Dallas Mavericks' Calvin Murphy, who has played 11 seasons in the NBA, picked up baton twirling from his mother, and was even offered baton-twirling college scholarships. He chose basketball instead.)
Even the best baton twirlers make mistakes. Heather says she must be careful of flying batons, because they sometimes drop.
"When it hits the ceiling, we all run away so it doesn't hit us when it comes down," she said.
And every once in a while the batons actually get stuck in the ceiling. Danielle recalled one time in the middle of a routine when a baton fell from the ceiling and landed near her.
Luckily, no one was hurt.
Copyright 2018 The Lawrence Journal-World. All rights reserved. This material may not be published, broadcast, rewritten or redistributed. We strive to uphold our values for every story published.