Heartland Community Church is showing mercy on Lawrence gasoline buyers.
The church will "buy down" gasoline to $1.29 per gallon from 11 a.m. to 1 p.m. Saturday at the Westside 66, 2815 W. Sixth. Wednesday's price at the station was $1.69.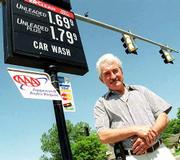 "This is just showing God's love in a practical way, as opposed to standing on the street corner with an open Bible preaching," said church member Randy McGuinness. "It's putting our money where our mouth is, so to speak."
The church, 619 Vt., has allotted $1,000 for the project, and there's no limit to how much discounted gas a person can purchase. Owner Richard Haig said his station could pump 1,800 to 2,000 gallons for 150 to 200 cars during the two-hour period.
Church members also will wash windshields and hand out free soft drinks and coffee.
Heartland's pastor, the Rev. Paul Gray, said the idea came from a church in Cincinnati, which recently held a similar event.
"We had a brainstorming session," he said. "Everybody is talking about gas prices and how high they are, so we figured this would be a good way to serve people."
Though church members are hoping to help those in need, the discounted gas will be available to anyone.
"We don't have any restrictions or try to monitor who's coming in," Gray said. "If somebody comes in a Rolls Royce and wearing a tuxedo, that's fine. We'd like to help people more in need."
Haig said his station is prepared to handle a crowd. Drivers will be directed to line up behind the car wash and down Schwarz Road and not on Sixth Street to alleviate potential traffic problems.
The gas pumps will be programmed at $1.29, and the church will reimburse the station afterward.
"We've never done anything like that," Haig said. "With gas prices the way they are, a lot of people are conscious about that. It'll be something fun a change from the norm for us."
Church member Suzanne Knowlton said she expected some drivers to question why the church would help out with gas prices. She's heard similar questions while church members handed out free soft drinks downtown, washed windows at Hy-Vee or gave out nickels for use in parking meters.
"It's nice doing things just out of the blue just doing nice things for people," Knowlton said. "I wish everybody could find things to do with no strings attached. It's just because we want to give."
Copyright 2018 The Lawrence Journal-World. All rights reserved. This material may not be published, broadcast, rewritten or redistributed. We strive to uphold our values for every story published.