For the first time in more than two decades, the University Theatre program will not be offering any productions during its regular summer season. That's because there will be no summer season. It's been eliminated this year due to budgetary problems.
Ironically, the state's decision to trim Kansas University's overall budget is not the primary culprit, according to Kathy Pryor, associate director of the KU theater program.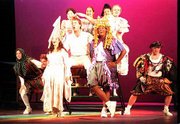 "The cuts from the state don't really affect us too much. We don't get a lot of funding from them," Pryor says.
According to Pryor, it costs about $300,000 each year to fund the KU theater program, minus faculty salaries which is quite a financial feat in itself that so many quality productions can be mounted on rather limited funds.
"I think we do an amazing job with the money we do have," she says. "The production values are very high."
About 25 percent comes from state funds, while another 25 percent is granted to them annually from the student senate. The remaining 50 percent of money needed to operate the programs must emanate from direct box-office ticket sales.
And that is where the main monetary problem has been slowly developing within the department during the last several years. Despite Lawrence's reputation as an arts community, ticket sales have been declining steadily during the past decade, resulting in empty seats and a lean box-office tally.
The remaining deficit had built up this year to $60,000, and the theater department was under orders to fix the problem as quickly as possible. So the staff took a drastic measure and decided to completely eliminate the summer season.
A quick fix
The department answers to administration officials in the College of Liberal Arts. The administration, Pryor points out, had been very helpful in carrying the mounting deficit, but earlier this year asked the theater program to come up with ways to wipe out the debt. In December of last year it was decided that the summer program, which costs about $60,000 to stage, would go on hiatus this year.
"The deficit was building and ticket sales were dwindling, and it got to the point where the college asked for a solution, and we decided we wanted a clean slate for the fall," Pryor says.
Losing the summer program hurts both the department and the city of Lawrence. For city theatergoers, the program offered a continuation of shows during what is a relatively slow theatrical time of year. More importantly, however, the program functioned as KU's own professional summer stock theater program. Directors, designers and actors are all paid for their time in summer shows, which means KU students could get the benefit of experiencing professional repertory shows without having to leave the area.
This season would have featured a musical and a play in line with the department's goal to provide varied entertainment experiences.
"Since we function as a semi-professional company, that means students are not employed for the summer. Actors and technicians can't continue their education. It's a blow," Del Unruh, director of theater, says.
Cutting the program for this year was not enough, however. During the upcoming school year, all productions staged in the smaller William Inge Theatre will be performed as workshops instead of as full productions. That saves the program on design and technical expenditures, but it limits the training technical staff can obtain. This is a solution that Pryor emphasizes is only a temporary one.
"We strongly feel the need to get back quickly to full productions in the Inge Theatre," she says.
The business of art
Running an acting and technical stage program is a business, and the University Theatre offers a diverse mix of productions at what are essentially bargain ticket prices. Each year, four main-stage shows are put on in the larger Crafton-Preyer Theatre, while five productions are mounted in the smaller Inge Theatre. Two children's shows also are performed.
Ticket prices vary per show and stage location, but only slightly. General admission for a main-stage musical is $16 for the public, while a standard play is $14 and an Inge Theatre show is $12. Prices are $1 less for senior citizens, and even cheaper for students.
Audiences are aging for most theater events, from community shows to lavish Broadway revues. Many young people have not been taught to attend the theater. Ironically, though, that is not the problem for KU's program. The sale of student tickets, and support by the students, has been pretty much consistent through the past decade. Where the sales are dwindling is in the general public sector.
"We've noticed a trend that, since Lawrence is an arts town, there are more choices for the public. We're up against professional theater and music events. It's not how people are choosing to spend their money; it's how they are choosing to spend their time. There is just so much to do," Pryor says.
In another ironic twist, the program's versatile mix of musicals, dramas, comedies, student-directed shows and works by new playwrights might be too much of a good thing for theatergoers.
Many theater attendees are casual viewers, which means they lean to popular fare like main-stage musicals and comedies. A professional theater can load up its program in a way that appeals only to popular taste. The University Theatre program, however, is an academic program. Their mandate is to give students training in all areas of the theater, so they can not stage a season just to gain a financial profit.
"We're not commercial," Unruh says. "We're an academic theater. We select shows that students need to be involved in, and not just what's popular at the moment."
"Every year the production committee talks about stuffing the schedule in a way that will make tickets sell like hotcakes," Pryor says. "But it always comes back to the fact that we are an academic training institution, and we won't sell out. We have a nice, balanced array of shows."
Getting the word out
Since University Theatre has so much competition from other performance venues, yet at the same time can not stage shows simply to make money, the department's main weapon is to market the program in a manner that redirects public attention back to KU.
"Only 1 to 2 percent of funds are from the Friends of the Theatre program, so one thing we need is a way to punch up season ticket sales. They have really dwindled," Pryor says. "How to convince people to buy season tickets is one way we can combat the trend."
The faculty also takes notice that since Lawrence is big on supporting arts, it's obvious that it's not that people don't want to support the program it's that their attention and time is being spent elsewhere. And if University Theatre can keep the publics' attention, then the seats should fill back up.
"We know it's hard to make a choice between so many things. But we know the Lawrence community is supportive, and we hope they'll respond," Pryor says.
If the Lawrence public does respond, then the summer program will be back next year. But if audiences don't come back, then next summer could shape up to be another long one, with University Theatre again closed for the season.
Copyright 2018 The Lawrence Journal-World. All rights reserved. This material may not be published, broadcast, rewritten or redistributed. We strive to uphold our values for every story published.