Milwaukee — Eight points and five rebounds isn't exactly what Milwaukee Bucks coach George Karl had in mind when he said he wanted better balance from point guard Sam Cassell.
But it was Cassell's defense, along with Ray Allen's offense, that lifted the Bucks to a 2-0 lead over the Charlotte Hornets on Tuesday night.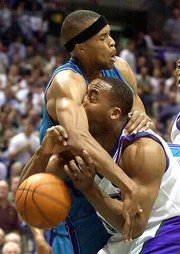 Allen had 28 points and a career playoff-high nine assists, and Cassell did an outstanding job of defending Baron Davis in the Bucks' 91-90 victory.
Game 3 is Thursday night in Charlotte.
Davis, who averaged 13.8 points during the season and 19.8 in the first five playoff games, was scoreless in the first half and finished with just four points, all from the line.
Davis' ultimate frustration came at the buzzer when he failed to chase down a rebound that was tipped by Bucks center Ervin Johnson and grabbed by Allen.
"I just tried to tip it out to one of my teammates," Johnson said. "We got the lucky bounce."
Cassell and Karl got into a small tiff this week after the coach said he wanted a better ratio from his point guard, who had four assists and 20 points in Game 1.
"Tell George to put the uniform on," Cassell retorted.
So, Karl playfully donned a Bucks jersey at the shootaround Tuesday morning and challenged Cassell to a little 1-on-1.
"Sam wouldn't play," Karl said. "He told me I'd foul him too much."
Good thing, too, because Cassell saved all his energy for Davis, who was flustered by Lindsey Hunter when he wasn't being hounded by Cassell.
"Sam did a good job," Hunter said. "He's been doing it all year and we've been getting better and better at focusing on defense because we know we can't get to where we need to go when we're just offense.
"Tonight, our defense won the game for us."
Johnson and Scott Williams also closed off the lanes to Davis, and the Bucks never trailed in winning their 12th straight at the Bradley Center.
The Hornets, who got 20 points from David Wesley, trimmed a 16-point deficit to 91-90 in the final minute when P.J. Brown hit a jumper with 27.2 seconds left.
Charlotte chose not to foul, and Robinson missed a short jumper, but Johnson tipped the ball out and Allen came down with it before being knocked out of bounds by Davis as time expired.
"It was a good miss," Robinson said. "I tried to high-arc it and make it a long bounce."
Hornets coach Paul Silas said the play went exactly as he hoped.
"We had time. I wanted the ball out of Ray's hands. He was on fire all night and I didn't want him to shoot," Silas said. "I'd rather take a chance with a two (to win) than heaving up a 3. I'd never foul in that situation."
Jamal Mashburn and Brown had 19 points each for the Hornets, and Robinson scored 19 for the Bucks.
Lakers 96, Kings 90
Los Angeles Shaquille O'Neal manhandled the Sacramento Kings again Tuesday night, to a point where they look beyond repair.
O'Neal went over, around and through the Kings for 43 points, 20 rebounds and three blocked shots as the Los Angeles Lakers defeated the Kings 96-90 for a 2-0 lead.
The defending NBA champion Lakers extended their winning streak to a season-high 13 games the final eight of the regular season and the first five of the playoffs.
O'Neal, who had 44 points, 21 rebounds and seven blocks in the Lakers' 108-105 victory in Game 1, overpowered the likes of Vlade Divac, Scot Pollard, and even Chris Webber in dominating the inside again.
Kobe Bryant added 27 points, nine rebounds and five assists, and Horace Grant had 10 points and 11 rebounds for the Lakers.
Webber led the Kings with 22 points and 18 rebounds.
Copyright 2018 The Associated Press. All rights reserved. This material may not be published, broadcast, rewritten or redistributed. We strive to uphold our values for every story published.