Immunization rates for Kansas children have improved substantially, according to a study released Monday.
A recent compilation of state statistics found that immunizations increased by 17 percent in 1999, bringing the rate of children fully immunized by age 2 to 74.9 percent.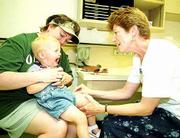 In Douglas County, the immunization rate climbed 3 percent to 76 percent during the same time.
The findings are part of an annual county-by-county look at quality-of-life issues affecting children, and are compared to the annual averages from the period 1994-98. Kansas Action for Children, a nonprofit organization that serves as an advocate for children, compiles the statistics in its annual "Kids Count" report.
Gary Brunk, KAC's executive director, attributed the immunization improvements to an ongoing statewide effort started by the Kansas Department of Health and Environment. In 1993, he said, only 51 percent of 2-year-olds were fully immunized when KDHE launched Operation Immunize. Since then, he said, the state has made good headway.
"That's the greatest success story," he said. "For me, it's about how, if we really decide to focus on the problem, we can really make a difference."
At the Lawrence-Douglas County Health Department, Barbara Schnitker, director of nurses, said the agency has been striving to improve immunization rates for 15 years. Last year, a KDHE audit found the department achieved an 88-percent rate for the primary series of shots, which covers diseases such as polio, measles, mumps, rubella and hepatitis B.
To reach as many children as possible, Schnitker said the department calls, sends letters and finally does home visits to remind clients about their children's' shot records.
"There are a lot of serious preventable diseases that immunizations protect against," she said. "Children are more susceptible if they don't get immunized."
Overall, 16 counties in Kansas achieved the Centers for Disease Control and Prevention's Healthy People 2010 goal of 90 percent or higher, including Rawlins County, where 100 percent of children enrolling in kindergarten had been immunized by age 2. By contrast, Wyandotte County only had a 56 percent rate.
Brunk said Kansas showed declines in indicators related to adolescents, including births to mothers with less than a high school degree; reported and substantiated cases of child abuse and neglect; and the number of juvenile court filings.
According to the report:
Douglas County showed a 3.6 percent increase in the number of births to mothers without high school degrees.
In Douglas County, reported cases of child abuse and neglect increased slightly, by 1 percent, to 1,114 cases. While the state's most populous counties saw an increase of 10 percent or more in substantiated cases, Douglas County was an exception to the trend, with a decrease of 6.3 percent.
The average number of cases filed in Douglas County's juvenile court went up 23.4 percent.
Copyright 2018 The Lawrence Journal-World. All rights reserved. This material may not be published, broadcast, rewritten or redistributed. We strive to uphold our values for every story published.