Illness has taken teacher Carol Abrahamson away from Hillcrest School, but she continues to inspire third-grader Dylan Guthrie.
Guthrie's essay on Abrahamson, "A Teacher to Remember," was chosen as one of the three best from 700 entered in a contest sponsored by the Kansas National Education Assn.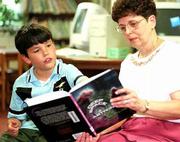 "I'm thrilled," Abrahamson said. "He read it in class one day. It was sweet."
The association urged students to write about a public school teacher who made a positive impact on their lives. The contest was conducted in conjunction with National Teacher Day, which is Tuesday.
When Guthrie and Abrahamson got together Thursday at Hillcrest, Guthrie said his third-grade teacher was among the best in the world.
"She's really interesting," Guthrie said. "She does a bunch of science units with us and makes it sound exciting."
He said Mrs. A that's what students call her because her name is long was always organized.
"She also tells a few jokes and lets us enjoy a good laugh," he wrote.
A panel of 14 judges selected the winners sixth-grader Jonathan Rivers of Manhattan, junior Chrystal Grondin of Olathe and Guthrie based on content, grammar and organization of the essays.
The judges awarded honorable mention to Emily Black, a sixth-grader at Deerfield School, for an essay she wrote about the late Shyra McGee, the wife of her basketball coach. McGee died in a traffic accident.
Abrahamson, who has taught in the district for about 30 years and is recovering from cancer surgery, said she normally handles science instruction for all third-graders at Hillcrest, 1045 Hilltop Drive.
"Since he (Guthrie) loves science so much, I think that's why he focused on me. I didn't teach him everything," she said. "When children reach third grade, they're ready to learn 'stuff' and they want to learn how the world works. There are so many things you can tell them that they're awestruck."
Guthrie also praised his teacher for coordinating a program in which three classes of third-graders have tried to read their way to and from the moon. For each minute a student reads at home, an imaginary rocket travels 1 mile in space.
The moon is about 250,000 miles from Earth.
"I usually read 200 minutes each month," Guthrie said. "We get rewarded with candy."
Abrahamson said the third-graders' rocket had circled the moon and might return to Earth before the school year ends June 1.
"We expect them to get back home. We're planning a homecoming party."
Copyright 2018 The Lawrence Journal-World. All rights reserved. This material may not be published, broadcast, rewritten or redistributed. We strive to uphold our values for every story published.