The prize for "Most Enduring" restaurant in Lawrence might well go to Fifi's Restaurant, which has been plagued by fire and theft and yet still survives. When it suffered fire damage, Fifi's temporarily closed and regrouped, and as for theft I refer to the theft of the upscale dining business by a wave of new restaurants feisty Fifi's fights back, steadfastly presenting a fairly traditional menu in an age of contemporary cuisine.
There are some novel surprises to satisfy the appetites of daring diners, but the cuttingest edge at Fifi's is probably the edge of the table slicing into your midriff in one of the crowded booths. It was a little uncomfortable, especially with four people trying to maneuver the oversized menus simultaneously, but ultimately it's acceptable a little quirk from a Lawrence landmark that has earned its status and maintains it with good performances in food and service.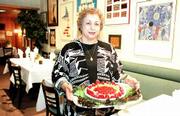 Given its less-than-desirable location on the parking lot expressway from Bucky's to the bowling alley, Fifi's has no "district" from which to draw spontaneous diners. Not surprisingly, it tends to attract the bad-weather crowd. Indeed, once inside you feel insulated from the world; we visited on the night of a tornado warning and remained largely oblivious to the storm except for the joking banter about free drinking in the wine cellar should we be forced to take cover.
It didn't come to that, but we still were well-attended by the staff, especially our young and somewhat nervous waitress, who tried hard to please us (we were only a little difficult really) and succeeded.
White tablecloths and live but understated music could be a recipe for stuffiness, but Fifi's uses both to create a kind of time-warped, but comfortable, gentility. I did feel, however, that the virtual warehouse of framed posters detracted from the attempts at elegance. Really, there is no reason I need to see "Ski Colorado" when I'm out for a fancy dinner. It is, nonetheless, carefully put together, and at least it expresses an individual's taste, rather than a corporate consensus of appropriate surroundings.
Main ingredients
The food at Fifi's may be the kind you imagine your grandfather eating at a night out with the Elks' Club, dishes with names you recognize: Beef Wellington, Steak Diane, Veal Marsala. Most of the choices are on the hearty side, and the ones we chose came conventionally, with some version of rice or potato. While the menu isn't deep in any one category, it is impressively representative, with beef, veal, pork, lamb, chicken, fish, shellfish and pasta all making appearances. Our waitress told us that the chef loves to cook halibut; both the appetizer and entrspecials on the day we went featured it, and both were excellent.
The cold brown bread served before dinner was boring, but things improved with the appetizers. The special, thick fish cakes of halibut and crab, came with a pesto salsa with egg and red pepper, and were quickly devoured by our table. Less popular was the bruschetta with olive tampenade and goat cheese appetizer. Although attractively presented with fresh greens, the homemade rosemary focaccia was under-crisp, and didn't provide an ideal backdrop for the spreads.
The halibut entrspecial was served with blackberries and kiwi in a pesto sauce; this list of diverse ingredients sounded like overkill, but the chef successfully composed an unusual and delicious combination that balanced a subtle pesto with tart fruit.
Very different, and unexpectedly spicy, was the blackened lamb. Pepper and other spices produced a complex flavor that was paired with the more ordinary tastes of mashed potatoes and a vegetable medley of asparagus, carrots and leeks. The whole dish was expertly done for a zesty take on your basic meat-and-potatoes meal.
I've read that Beef Wellington is so named not because the Duke of Wellington was a particular fan of steak encased in pastry, but because the finished product resembled his military boots. Despite this inauspicious heritage, it's become a classic preparation for beef. At Fifi's the pastry was fine, the beef slightly overcooked up to medium-well in places, instead of medium-rare; still it was pretty good, and the mushroom duxelles sauce was an appropriate complement.
Chicken dijon sounded straightforward enough, but within its limited parameters it was quite good. The chicken was juicy but the breading crispy, and the sauce was pleasantly predictable: There's little attention required to make dijon tasty, and this preparation wisely let the mustard do most of the work.
Resilient approach
Like the dinner menu, the desserts run the gamut, including key lime pie, caramel flan, chocolate mousse, white chocolate chip ice cream and tiramisu. We tried the chocolate mousse light and fluffy and tiramisu large, squishy and drizzled with caramel. Neither took any culinary risks, but both were good.
When it opened in 1978, Fifi's could hardly have foreseen the ever-increasing sophistication of dining out. To its credit, it has evolved to serve a changing audience, without abandoning some of the more traditional trappings which make it appealing. Indeed, what I liked most about Fifi's was its attitude: that it deserves to flourish, even in a company of upstarts, especially in a community of competition.
Copyright 2018 The Lawrence Journal-World. All rights reserved. This material may not be published, broadcast, rewritten or redistributed. We strive to uphold our values for every story published.