Topeka — A member of the House budget committee says she wants a review of state funding of gifted programs, which provide instruction for advanced public school students.
With its $10 million per year statewide price tag, Rep. Brenda Landwehr, R-Wichita, said she wanted to make sure the state was getting "the biggest bang for its buck."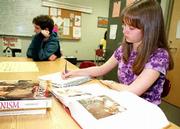 She said she has heard complaints from parents and teachers that some gifted programs aren't that good. She declined to say which ones those were.
Landwehr also noted that state funding of gifted programs is not required by the federal government and Kansas is one of the few states that does fund it.
"If we're going to be looking at tight budgets, we need to look at this," she said.
In recent weeks, lawmakers have been fighting over ways to bridge a $206 million budget gap.
Landwehr said she tried to add a provision to the appropriations bill that would have required the Kansas Department of Education to immediately provide information on the effectiveness of gifted programs.
But she said she backed off the move when told the information could be more effectively gathered during the period between legislative sessions.
In Lawrence, the gifted program is running at full tilt, serving some 760 of the district's 10,300 students. That's approximately 7 percent of all district students. Statewide, about 3 percent, or 15,500 of the 450,000 students, are in gifted programs.
Judith Lacey, coordinator of gifted education for the Lawrence school district, said she would strongly oppose any move to reduce funding.
From a societal perspective, gifted programs "just make good sense," she said. The children receiving the instruction will be called upon to eventually "take care of all the problems and needs of their day."
Lacey said whenever there is a budget crunch, gifted programs become a target because many lawmakers believe that extremely smart children will learn regardless of the classes they're in. And, as Landwehr noted, the federal government doesn't require gifted programs.
"But they should," Lacey said.
And Lacey said it's a myth that advanced students will progress regardless of special instruction. She said if gifted students aren't placed in gifted programs they often lose interest in school and fail to live up to their potential.
Copyright 2018 The Lawrence Journal-World. All rights reserved. This material may not be published, broadcast, rewritten or redistributed. We strive to uphold our values for every story published.