St. Louis — Jackie Stiles fought back tears as her fabulous college career ended on a frustrating note.
Purdue shut down the NCAA's career leading scorer, earning a shot at its second NCAA women's championship in three seasons, in an 81-64 Final Four victory over Southwest Missouri State on Friday night.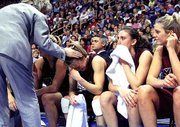 Stiles, who entered with a 30.6-point average, was held to 22 points on 7-for-21 shooting. That's far off the mark for a player who entered the game shooting 57 percent.
"You never want something as good as this to end," Stiles said. "You never prepare yourself for this moment."
All-American Katie Douglas had 25 points for the Boilermakers, who dominated inside and out.
Purdue, the 1999 national champions, will play Notre Dame in the title game Sunday night.
Douglas and Camille Cooper, who had 16 points and 10 rebounds, were starters on the national championship team.
"I have to give our kids all the credit in the world," coach Kristy Curry said. "I thought they executed the game plan to a T."
Purdue (31-6) overwhelmed the Bears (29-6) inside with a 47-29 rebounding advantage, scoring on numerous second-chance shots. The Boilermakers had 21 offensive rebounds.
"I just know rebounds win championships," Cooper said. "I wanted to give us second and third chances. I think everyone was crashing the boards."
Freshman Shalicia Hurns had 12 rebounds, Douglas seven and Shereka Wright six. Erika Rante led SMS with five rebounds.
Rebounding hadn't been a strong suit earlier in the tournament for Purdue, which has a front line that goes 6-foot-4, 6-3 and 5-10. The Boilermakers were outrebounded by UC-Santa Barbara and Louisiana State in the first two rounds, were even with Texas Tech, and had a 37-34 edge against Xavier.
Stiles scored five of her seven first-half points in a six-second span that gave SMS an early 9-5 lead. The last 16:43 of the half, Stiles got off only four shots.
She was particularly frustrated in the first half as Wright and Shinika Parks took turns face-guarding her all over the floor.
"They did a great job defensively," Stiles said. "They made me work for everything."
With Stiles quieted, Purdue took command at the end of the half. Douglas had five points in a 10-0 run in the last 1:58 for a 47-30 lead at the break, including a driving shot with two seconds to go.
Purdue eased the pressure at the start of the second half and Stiles scored eight of the first 10 points to cut the gap to 11. Then the Boilermakers clamped down again.
Stiles' last basket came with 15:59 to go. The Claflin native missed her last eight shots and SMS had no one to pick up the slack. Carly Deer and Tara Mitchem added 11 points apiece.
"The second half, I sort of ran out of gas toward the end," Stiles said.
Stiles, who finished her career with 3,393 points, got a standing ovation when she sat down with 1:05 to play.
"That was a great team defense that we played," Douglas said. "We really wanted to limit her touches."
Douglas, a 6-foot guard-forward averaging a team-leading 15 points, has been remarkably consistent in the tournament with at least 18 points the last four games. She was 3-for-5 from three-point range.
"I really wanted to be aggressive from the get-go," Douglas said. "When I'm aggressive at first, it helps me throughout the game."
Cooper had 16 points on 7-for-10 shooting for Purdue, her seventh double-double of the season. Shelly Komara had 13 points and Wright 11.
It was the second-most lopsided loss of the season for Southwest Missouri State, which was beaten 99-80 at Northern Iowa on Feb. 18.
Copyright 2018 The Associated Press. All rights reserved. This material may not be published, broadcast, rewritten or redistributed. We strive to uphold our values for every story published.