Belgrade, Yogoslavia — Riot police laid siege to Slobodan Milosevic's villa early today in an attempt to arrest the former president. But a defiant Milosevic rejected a warrant in a tense standoff with authorities trying to bring him to justice.
After a raid on his home in an exclusive Belgrade neighborhood, police officials presented Milosevic with the warrant, an Interior Ministry source told The Associated Press on condition of anonymity. But, according to the source, Milosevic refused to accept it, saying he did not "recognize these police and these authorities, all of them being NATO servants."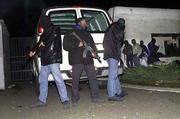 The raid came on the very day the U.S. Congress had set as a deadline for Yugoslavia to begin cooperating with the U.N. war crimes tribunal in The Hague, Netherlands. The court wants to try Milosevic for war crimes and crimes against humanity stemming from his harsh crackdown on ethnic Albanians in the Serbian province of Kosovo in 1999.
Washington had threatened Belgrade with a suspension of $100 million in economic aid if it did not comply.
The raid began with special police some in plain clothes, others wearing masks advancing across the vast yard and firing stun grenades surrounding the villa in the Dedinje district. Officers met with some resistance in the villa yard, and journalists on the scene said a police officer was wounded. A local news photographer suffered a gunshot to his hand, the state Tanjug news agency reported.
"We won't let them inside. We won't let them arrest him," Milosevic aide Zivorad Igic told The AP by mobile phone before police hauled him away.
But as the scene settled down overnight, a standoff appeared to be developing amid signs that negotiations were taking place with security guards who indicated they were loyal to Milosevic and were unwilling to give him up.
"Our minister gave us a task to arrest Milosevic according to the arrest warrant, but without casualties if possible," a police officer told The AP. "That's why there are so many policemen and that's why the operation is so slow."
Milosevic's wife, Mirjana Markovic, and their daughter Marija were believed to be inside the villa with the former president. A police armored personnel carrier was parked outside the gate, and the bullet-proof BMW sedan used by Milosevic during his reign was parked in the yard, a single driver inside.
"I don't know who stopped the action, but we have to finish it by daylight. We don't know who is inside with him or if there are wounded there," said a top-ranking government official who refused to be identified.
The police action followed hours of wildly conflicting reports about whether Milosevic was in custody. At one point, Milosevic appeared outside his home, apparently to reassure supporters he had not been arrested as Serbian state television reported.
The government of President Vojislav Kostunica has been split over whether to surrender the former strongman. Many officials insist that Milosevic must be tried at home for ruining the country before he is handed over to the tribunal to face war crimes charges.
He has been investigated at home for corruption, embezzlement and allegedly ordering the assassinations of political opponents.
Kostunica and others had invoked Yugoslav legislation barring extradition of Yugoslav nationals to a foreign country. Parliament was reportedly preparing a new law that would allow Milosevic to be extradited, but the bill may not be enacted before late April.
Since his ouster from power last fall, Milosevic has lived under police surveillance in his villa. Last weekend, he made a defiant public appearance in front of his home, addressing his followers who came to express their support.
The raid capped a wildly confusing night in which state and independent media issued contradictory claims about whether Milosevic had been arrested, prompting swift and vehement denials from his closest aides.
Independent B-92 radio had reported earlier in the evening that Milosevic already had been arrested and taken to the Palace of Justice.
But Milosevic later told the station in a live interview: "I'm just drinking coffee with my comrades and I'm very well. In front of my house, many have gathered who have our people and national dignity at heart. We are very proud. I expect this story to end in a just manner and for the benefit of our people."
The tile-roof villa was built for former Yugoslav communist dictator Josip Broz Tito in 1978, two years before he died. It is said to contain secret underground passages, as well as underground vaults containing jewelry that Tito received as gifts during his 36-year rule.
Milosevic rose to power in Yugoslavia during the waning years of communist power in Europe. He exploited Serb nationalism to gain control, and in 1991 triggered the bloody breakup of the former Yugoslavia, sending his army against the pro-independence republics of Slovenia, Croatia and Bosnia. He lost all those wars, but remained firmly in control in shrunken Yugoslavia.
Milosevic also tried to put down by brute force an ethnic Albanian rebellion in Serbia's province of Kosovo in 1998. But NATO intervened with airstrikes, ultimately pushing Serbian security forces out of the province in 1999.
His political demise came late last year, when he lost in elections to Kostunica. When Milosevic refused to recognize election results last October, opposition supporters rioted.
Milosevic tried to quell the uprising with force, but military commanders refused to obey him. He conceded defeat on Oct. 6, but maintained political activity in apparent attempts to regain power.
Copyright 2018 The Associated Press. All rights reserved. This material may not be published, broadcast, rewritten or redistributed. We strive to uphold our values for every story published.