Skopje, Macedonia — Government officials on Friday declared a government offensive against ethnic Albanian insurgents over, saying Macedonian forces have regained key border areas with Kosovo.
Spokesman Antonio Milososki did not indicate whether the end of the offensive was simply a pause in fighting on the government side. But he suggested negotiations with ethnic Albanian factions were ahead in the struggle to keep the country together.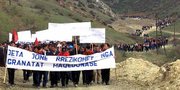 "The political battle is still to come," he told reporters. "We must preserve Macedonia as our common country."
The Slav-dominated Macedonian government has refused to negotiate directly with the rebels, whom it considers terrorists fighting to split up Macedonia, but appears willing to talk to moderate ethnic Albanian political groups. The rebels insist their fight is not separatist but an attempt to gain more rights for the ethnic Albanian minority nearly a third of the country's population.
The rebels did not immediately comment on the government claim of military success. They said earlier they were regrouping in the hills around Tetovo, Macedonia's second-largest city.
The announcement of end of the offensive appeared in part due to increased international pressure on the government to negotiate with the ethnic Albanians.
Ahead of meetings Friday with Macedonia's foreign and prime ministers and President Boris Trajkovski, Hans Haekkerup, the U.N. administrator of Kosovo, said he would be "raising the urgent need for restraint by the Macedonian forces and for dialogue to replace the shooting."
Thursday's deadly cross-border mortar barrage into neighboring Kosovo added urgency to the growing international push.
Before the government declared its offensive over, Robert Frowick of the Organization for Security and Cooperation in Europe, warned in Vienna that Macedonia was facing its "moment of truth," as he urged an end to fighting and a start to negotiations.
Copyright 2018 The Associated Press. All rights reserved. This material may not be published, broadcast, rewritten or redistributed. We strive to uphold our values for every story published.