For the fourth year in a row, crime has fallen at Kansas University down 12 percent last year and more than a third of 1997's level.
The decrease was mainly due to plummeting rates of burglary and theft. In 2000, KU saw 155 reported incidents of burglary a 55 percent decrease from 1997.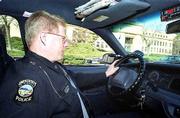 And thefts slid 35 percent, down from 588 incidents in 1997 to 380 last year.
"As a whole, we're pleased to see this trend," said Maj. Chris Keary, assistant director of the KU Public Safety Office. "We're pleased, because it appears that the efforts we put forth are making a difference."
In a detailed report issued Friday, statistics show fewer and fewer occurrences of the most common crimes burglaries, thefts, assaults and vandalism. And because crimes are often linked, decreases in one kind of crime tends to bring down other kinds.
"When there aren't as many burglaries, you tend to have fewer broken car windows. And that brings down the number of thefts, too," Keary said.
"We caught a few auto burglars in the act last year, which helped stem that tide."
Assaults, while remaining relatively stable, also decreased 28 percent in 2000 after a slight increase in 1999. Keary attributed that bump to a rash of telephone harassments a crime included in the assault category that originated from a New York man. Once he was arrested, Keary said, assaults dipped.
But that's not to say that all categories went down. The report displayed a few increases, the most significant of which were drug violations.
Last year, 45 drug violation incidents were reported to police a 25 percent increase from 1999 and almost double that of 1998. But Keary attributed the incline to better reporting, especially from KU staff members, and not an actual increase in drug activity.
"A lot of those cases come from the residence halls," he said. "It's unlikely that an officer (would) happen to walk up to a person who's smoking a joint, so we continue to train staff members and teach them what to look for, what to smell for."
Another increase shown last year occurred in rape, which rose from one reported incident in 1999 to four in 2000. And although the number didn't make a statistical difference in the campus crime rate, Keary said he was confident the actual number of rapes was larger.
"The increase tells me that there are definitely more out there," he said. "No matter how many are reported, the reality is there are probably many more that go unreported. It takes a lot of strength to be able to do that, and we want and encourage them to report it."
Because of that suspected underreporting, Keary said that "it would be awfully hard to read a trend into it."
Copyright 2018 The Lawrence Journal-World. All rights reserved. This material may not be published, broadcast, rewritten or redistributed. We strive to uphold our values for every story published.