Jonathan Richman is unique in all the world of rock and roll music. A prodigy in the early '70s, the first incarnation of his band The Modern Lovers defined for a generation of early punk and artsy new-wavers what rock in the wake of the Velvet Underground might be. He quickly abandoned that brittle edge for a softer, astonishingly sincere and celebratory voice that he's been cultivating ever since. The affable, endearing and fearless personality Richman projects in his music has never been duplicated.
These days, Richman is enjoying an expansion of his audience produced in part by the greatest public exposure of his career; his appearance in the 1998 hit film "There's Something About Mary."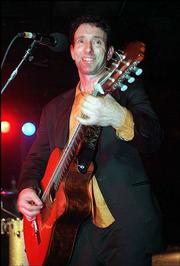 A true wandering minstrel, Richman on tour consists of only himself and stand up drummer Tommy Larkin traveling by van. There is no road manager, no merchandise person, and no guitar tech. One might imagine that a man just shy of hid fiftieth birthday, with a 28 year recording career wouldn't find pleasure in piloting a GMC van across country, but his joy in performing is self-evident.
Young people, very many of them female, crowd the stage as the impish Richman exudes innocence and charm from the stage. As he segues between tunes from his considerable repertoire, he does so without a prearranged set list. Larkin picks up on subtle cues and stay right with Richman's stream-of-consciousness song selection.
Perhaps Richman was thinking of future wanderings across the pond as he opened his show with songs such as "Give Paris One More Chance," "Nineteen in Naples," and "Old World." Soon after he began to bounce from one lyrical notion to another singing such gems as "Here Come The Martian Martians," "Pablo Picasso," and "Fender Stratocaster."
During the homage "Velvet Underground," Richman displayed his uncanny knack for mimicry with a dead-on Lou Reed impersonation. Also a musical chameleon, Richman is an encyclopedia of guitar licks, and can wring more rock out of his nylon-stringed acoustic than most players half his age can do with a Les Paul and a stack of Marshalls. A master of both rhythm and leads, he vamped for a while on James Brown's "Sex Machine," and the highlight of the night, an extended foray into "I Was Dancing In A Lesbian Bar" was built on the same guitar lick as Archie Bell and the Drells' "Tighten Up."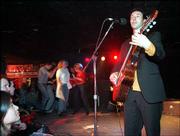 Fore encores, Richman chose the charming "Vampire Girl," an ode to Goth babes, and "The Night Is Still Young"
Richman, it often seems, can't be real. In this post-modern, post-ironic age, his demeanor, nay his very existence is beyond refreshing, it's startling. Richman makes a celebration out of the smallest details of life without a nod or a wink to anyone. There is no joke to get here. Richman's not kidding about a thing.
Copyright 2018 The Lawrence Journal-World. All rights reserved. This material may not be published, broadcast, rewritten or redistributed. We strive to uphold our values for every story published.