Washington — George W. Bush often said during the presidential campaign that he didn't want to be president when he grew up he wanted to be a professional baseball player. Friday, he discovered a consolation prize.
Bush former baseball team owner, mediocre college baseball player, avid box score reader launched what might be called the National Baseball Initiative. He held an elaborate lunch for his baseball idols, announced he would open the White House South Lawn for a monthly T-ball game between local Little League teams and even gave hope to long-suffering Washingtonians that bringing major league baseball back to the area could become a federal concern.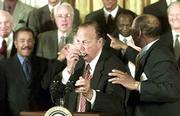 "The president would be interested in seeing if that could happen," White House press secretary Ari Fleischer said.
The baseball festivities at the White House were a pleasant Friday distraction after a week of haggling over campaign finance reform, regulatory actions and tax cuts. Into the gilded East Room, escorted by military guard, walked all the heroes of Bush's youth (and his adulthood): Hall of Famers Hank Aaron, Sparky Anderson, Sandy Koufax, Johnny Bench, George Brett, Bob Feller, Whitey Ford and, of course Yogi Berra the man who shares both Bush's love of baseball and creative use of English. Reporters requested a transcript of any discussion between Bush and Berra.
"One of the great things about living here is you don't have to sign up for a baseball fantasy camp to meet your heroes," Bush said. "It turns out, they come here."
If some have questioned Bush's day-to-day involvement in White House affairs, there was no doubt Friday about his passion for the game of baseball. Hillary Rodham Clinton installed a sculpture garden on the South Lawn; Bush will be plopping down bases and bringing out portable bleachers.
Beginning in the next month or so, for "the next four seasons," as Bush put it, local T-ball teams will invade the White House lawn. One of the first is likely to be a team from the Capitol City Little League, which draws players from the area of Washington D.C. that includes the White House.
Little League spokesman Lance Van Auken said he was told about two weeks ago that Bush was interested in bringing baseball "back to its roots, and T-ball is just about the purest thing you can get ... when a 5-year-old whacks the ball and there is pandemonium."
Copyright 2018 The Lawrence Journal-World. All rights reserved. This material may not be published, broadcast, rewritten or redistributed. We strive to uphold our values for every story published.