Aspen, Colo. — The pilot of a chartered jet that crashed and killed all 18 on board as it approached one of the nation's trickiest airports had asked the tower in the last minutes of flight if the runway lights were on, an investigator said Friday night.
Al Dickenson, head of the National Transportation Safety Board team examining the crash, said the taped conversation with controllers showed the pilot was assured the lights were illuminated. Dickenson would not comment on whether the query indicated the pilot couldn't see the lights.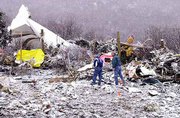 The Gulfstream III cockpit voice recorder was found, but the 20-year-old jet was not equipped with a data recorder, officials said.
Carol Carmody, the NTSB's acting chairwoman, said the voice recorder "has some useful information on it," and it had become "apparent from our preliminary look that the left wing hit the ground first. In terms of what happened after that, we're not clear on the sequence."
The NTSB team examined hundreds of pieces of metal from the executive jet that went down Thursday night in light snow a few miles outside this wealthy ski resort town.
The plane, carrying 15 passengers and three crew members, was owned by a Hollywood studio. Among those on board were two employees of a Los Angeles TV station who had planned a weekend of skiing.
Carmody said the plane had been used in Ivory Coast in West Africa until it had "an accident" in 1988. She did not elaborate. It was purchased by Gulfstream and was repaired in 1989, after which it was sold to the charter company.
The twin-engine jet left Burbank and made a stop in Los Angeles before heading to Aspen. Just after 7 p.m., the jet struck a hillside, skidded across a culvert and hit a bluff 500 yards short of Aspen-Pitkin County Airport, which consists of a single runway in a narrow mountain valley.
Witnesses said they saw bodies of passengers still strapped in their seats near a highway that runs parallel to the runway. Other bodies were found on the hillside.
The National Weather Service reported light snow in the area at the time of the crash. Forecasters said visibility dropped from 10 miles to less than two miles in about 20 minutes just before the crash.
Copyright 2018 The Associated Press. All rights reserved. This material may not be published, broadcast, rewritten or redistributed. We strive to uphold our values for every story published.