Cranston, R.I. — Danielle Mastronardi, 16, has a confession to make. Not only is she very proud of her parish, but she's anxious to tell everyone that they've really got to go to Holy Apostles Catholic Church and try the Sunday evening teen Mass.
"I love it. I love telling people that they should come and check it out," the high school sophomore says. "I truly look forward to Sunday nights."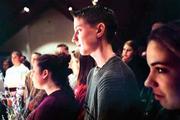 For sure, Danielle is not the only teen-ager in the western Cranston parish who has grown enthusiastic about Mass at Holy Apostles. At a time when many older churchgoers wonder why so many young people avoid going to church, Holy Apostles is getting rave reviews from its young people for spirit-filled liturgies and programs that attempt to bring them closer to Jesus Christ.
A recent Sunday was no exception. Looking out on the several hundred people at the 5:30 evening Mass, the Rev. Richard D. Sheahan, the pastor, invited all teens in attendance to join him around the altar as he prepared to recite the Eucharistic prayers.
It was not a new invitation, because he has extended similar ones many times before. Nonetheless, the effect was a reminder to the teens that they were welcome and need not feel like outsiders.
Indeed, teens say this is truly a Mass where they do feel at home, whether because of the uplifting music or seeing their peers take on the roles of lector, acolyte, ministers of the Eucharist, altar preparers or bearers of gifts.
Closer to Christ
Sheahan says it was during a training conference for priests and parish leaders in 1996 that he first became acquainted with the Life Teen, a program of outreach to teen-agers that was begun many years earlier in a a Catholic parish in Mesa, Ariz.
"I found the experience to be very exciting and believed a program such as this would help bring our teens closer to Christ," he says, "so I proposed it to the staff."
The rest is history. The Life Teen Mass was introduced into the parish that same year on a monthly basis, then became twice-a-month in 1997. Then, two years ago, the parish decided to go all-out by adding Life Teen Nights, 90-minute sessions led by 16 adult mentors who would try to guide the teens into a deeper understanding of Catholic teaching.
Michael Santilli, the parish's Life Teen coordinator, says the sessions typically take a variety of forms, sometimes employing skits or videos to break the ice or to perk interest.
Today, he says, many churches seem to try their best to avoid talking about "sensitive" topics, especially topics on sexual morality that can make adults uncomfortable. As a result, he says, young people at church don't always get to hear what they need to, especially on issues of morality.
Life Teen, he said, tries to fill those gaps.
Finding a new consensus
Such was the case Sunday, when Santilli invited Jason DeGregorio, a third-year medical student at Brown University, to address a group of 90 teens after the Life Teen Mass about issues of sexual morality.
After the participants went to separate rooms girls in one, boys in another to talk about some of the issues related to dating and sex, they reconvened to share views. DeGregorio then provided some of the philosophical and theological reasons why Catholics take the position that premarital sex is always wrong.
As he explained it, Catholics believe that God made natural law for all time, and it makes no difference what the "consensus" of society may be at the moment just as people believing two centuries ago that slavery was OK made slavery any less wrong. And today, he said, the rules of conduct that confine the gift of sex to marriage also require that single people be especially careful as well.
Later, 16-year-old Mastronardi expressed relief, not only because DiGregorio's views coincided with her own but because she discovered that many of the other teens believed as she did.
"It makes you feel good to find people backing you up," she said. "I have other friends who say, 'No, I'm not going to wait.' But here I have the comfort of knowing there are other people who do think like me."
A whole new light
To be sure, one never quite knows what's going to happen at a Life Teen Night. Nick Mendillo, 15, remembers the time when participants entered the parish center and found chairs arranged to make it appear that had boarded a plane.
The lesson for that evening: with Christ as your co-pilot, you're going to be safe, even when you hit turbulence.
Teens typically break into small groups to discuss the presentations, considering the situations in light of their faith experience.
It's a formula that works, says 15-year-old Mendillo.
"It helps kids understand what the whole Catholic religion is all about, and brings everything in a whole new light," he says. "Church doesn't have to be boring. It can be interactive and fun."
And there, Sheahan says, lies the program's strength.
Whereas earlier generations saw their parishes as social centers, he says, today's young people already have an abundance of social activities to go to, so they look to church for something more deep.
"Kids today have a deep thirst for truth," says the priest. "This is a very Catholic program, and the reason the kids are responding is that it presents Catholic doctrine in a clear way. They can see a clarity in the message that they don't always see in the world."
Copyright 2018 The Lawrence Journal-World. All rights reserved. This material may not be published, broadcast, rewritten or redistributed. We strive to uphold our values for every story published.