The man accused of using a sniper's rifle to kill a Buffalo, N.Y., abortion doctor was apprehended Thursday in France, ending an international manhunt that stretched through six countries and lasted more than two years, according to U.S. and French officials.
James Charles Kopp, 46, was arrested without incident by French police in the small town of Dinan in northwest France. Prosecutors said Kopp was apprehended after he picked up a package mailed from the United States containing about $300.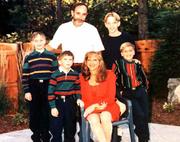 Kopp faces federal and state charges in the death of Dr. Barnett Slepian, 52, who was slain in October 1998 by a single shot through a window as he was heating soup in his home in Amherst, N.Y. The physician had just returned home from synagogue, and his wife and four children were nearby when he was shot.
Also arrested Thursday in New York were Loretta Claire Marra, 37, and Dennis Malvasi, 51, two Brooklyn residents with long histories of anti-abortion activity. They are accused of helping Kopp by sending him money and attempting to smuggle him back into the U.S., according to a complaint filed in Brooklyn federal court.
Malvasi was sentenced to seven years in prison in 1987 for bombing abortion clinics in New York City. Marra and Kopp were arrested together three times from 1990 to 1992 in Vermont, Long Island, N.Y., and Italy, officials said.
Kopp, a fierce abortion opponent who was nicknamed "Atomic Dog" by fellow activists, had been listed since 1999 on the FBI's "Ten Most Wanted" list, and is considered a suspect in four other shootings of abortion doctors in Canada and Rochester, N.Y. Authorities in Ontario, Canada, have issued an attempted murder warrant for Kopp in connection with one of those shootings.
Justice officials said they are still debating whether to seek the death penalty against Kopp, who has been indicted on federal charges of using a firearm in a crime of violence and using deadly force in violation of the Freedom of Access to Clinic Entrances Act. He also faces second-degree murder and other charges in New York state.
The arrest ends years of frustration for law enforcement officials and for the family and supporters of Slepian, who was one of seven abortion doctors and clinic workers killed in the U.S. since 1985.
"We're very relieved," said Melinda DuBois, clinic director at Buffalo GYN Womenservices, where Slepian worked. "We've been hoping this day would come ... But it also brings back the whole event, the shock and sadness we felt when our friend was murdered."
Prosecutors and other U.S. officials concede that Kopp's capture could be just the beginning of a long process to bring him back for trial. French courts have frequently resisted efforts to extradite suspects who may face the death penalty.
Copyright 2018 The Lawrence Journal-World. All rights reserved. This material may not be published, broadcast, rewritten or redistributed. We strive to uphold our values for every story published.