When Murra Cafe needed another server, they did what any restaurant would do and posted a "Help Wanted" sign in the window. But when they needed another cook, the family operating this Korean restaurant restricted its search. Not just anyone who might happen by their storefront in the I-70 business center would qualify. No, for this job, the chef needed someone with real experience. So she hired her sister who arrived last week from Korea.
Such a move may seem like a leap of faith not to mention luggage particularly for a new restaurant serving ethnic food from a floundering mall. But consider this: the regulars are loyal, newcomers should be pleasantly surprised and scaredy-cats can eat the chicken tenders. The restaurant even holds a bit of an insurance policy by supplementing its Korean lunch and dinner menu with an American-style breakfast.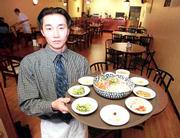 "Unique. Healthy. Delicious." That's both advertisement and mandate for Murra, which our waitress told us is the English phonetic spelling for a Korean word meaning "to dine." It is unique and certainly healthy, with its emphasis on sticky rice and vegetables. It's also delicious, just not in the way Americans expect. Although known for its spiciness red pepper is a basic seasoning Korean food won't leave you red-faced and sniffling.
To dine
The pork barbecue available spicy or mild is an excellent foray into Korean cooking. I found it very accessible for American taste buds, and it was so good I started craving more a couple of days later. When we asked for the chef's secret, our patient, attentive waitress revealed the pork is marinated in soy sauce, brown sugar and ginger; sesame gives it an exotic dimension. It's then presented with carrots, green beans and mushrooms that mellows and enhances the barbecue flavor.
Many entrees are lighter, such as jop-chae-bop, a traditional dish of sweet potato noodles, vegetables and beef. The sweet noodles, set against a tangy backdrop of seasonings, produced a combination that was tasty but much less aggressive than the barbecue. Another largely vegetable creation is the bi-bim-bop, which may sound like a Top 40 song, but, thankfully, has more personality. For this, a bowl of rice was colorfully encircled by small helpings of spinach, bean sprouts, carrots, zucchini and mushrooms, then topped with sliced beef. While bland on arrival, it heated up with splashes of pepper sauce.
Either of these choices would pair well with the hearty "Mommy's Special," straightforward meat-filled pastries available as an appetizer or entr Also good were the spicy rice dumplings. These chewy sticks of pressed rice, served in a hot sauce, have an unfamiliar texture that takes a few bites to get used to, but they're worth it.
Since Korean cuisine features soups and stews, I looked forward to the hae-mul-tong, a traditional seafood soup containing crab, shrimp, squid, clams and tofu. Our waitress warned us that this was a labor-intensive dish, and she was right. We dutifully de-shelled many of these sea creatures prior to eating. I was a little disappointed here, though; the tradeoff for a flavorful broth is seafood that becomes somewhat rubbery in the cooking.
One perk to Korean food is the several small side dishes served to the entire table. Included among these is, of course, kimchi, a pickled cabbage with hot pepper sauce that is uniquely and ubiquitously Korean. (Kimchang, the making of kimchi, gets its own festival during the autumn harvest.) There are also other nibbles of good things like vegetable-studded miniature pancakes and fried tofu. And, remembering mom's advice to "just try it!," I discovered that even bean curd jelly is edible.
What: Murra CafeWhere: 1025 N. Third; 838-4580Hours: 9 a.m.-9 p.m. Tuesdays-Thursdays; 9 a.m.-10 p.m. Fridays-Saturdays; 9 a.m.-9 p.m. SundaysEntrees range from: $7-$12.95
The right setting
Murra's food deserves an environment that makes you want "to dine"; on this score the restaurant is on the right track but should do more. The original, unusual artwork brings modernity, but the overall feeling is somewhat spare. There is a lot of yellow wall but not very many pictures; a lot of tables but a dearth of table decoration. An attractive entryway is constructed to buffer the seating from the outside, but the kitchen could use more separation.
Although Murra's chef worked for years as an American cook, I found breakfast the least memorable meal. Not that there was anything wrong with the vegetarian omelette, hash browns and blueberry pancakes. But my best breakfast from Murra? Leftovers from dinner the night before.
Copyright 2018 The Lawrence Journal-World. All rights reserved. This material may not be published, broadcast, rewritten or redistributed. We strive to uphold our values for every story published.