Crews on Wednesday began the process to clean up an oil spill that dumped nearly 2,800 gallons of crude onto a field in eastern Jefferson County.
Workers Wednesday afternoon dumped gravel and spread hay to soak up and stop the flow of the oil, which spilled sometime Wednesday morning when a vehicle apparently left the roadway and drove through a ditch into a field, breaking a pipe leading to an oil storage container.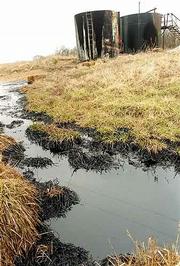 The spill occurred north of McLouth in a field just west of the Jefferson-Leavenworth County line, near the intersection of county roads 154 and 259, said Don Haynes, Jefferson County emergency management director. The person leasing the storage tank discovered the spill about 9 a.m. Wednesday.
The tank had contained about 50 barrels of crude oil. At 55 gallons per barrel, Haynes estimated that about 2,750 gallons were spilled.
Workers were using a vacuum truck to remove oil that hadn't seeped into the ground, Haynes said. Bulldozers and other heavy machinery will be used to remove the contaminated topsoil, but Haynes didn't know how much earth would be excavated.
The Kansas Corporation Commission, which oversees the storage of oil in tanks similar to the one that was damaged, was in charge of the cleanup, Haynes said.
Copyright 2018 The Lawrence Journal-World. All rights reserved. This material may not be published, broadcast, rewritten or redistributed. We strive to uphold our values for every story published.