SPRINGFIELD, MASS. — A federal jury on Monday decided on life imprisonment for a former veterans hospital nurse who killed four patients by injecting them with a heart stimulant.
Kristen Gilbert, 33, was spared a sentence of death by injection. She would have become the only woman on federal death row.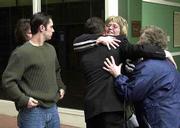 U.S. District Judge Michael Ponsor formalized the jury's recommendation, sentencing Gilbert to four consecutive life terms without the possibility of parole. He also sentenced her to two 20-year terms for trying to kill two other veterans, and to several lesser charges.
Before the formal sentencing, Ponsor allowed some relatives of the victims a last chance to speak.
Claire Jagadowski told the judge of the loss of her husband, 66-year-old Stanley Jagadowski: "I still listen for his key in the door. Now I have to face old age alone."
Gilbert declined an opportunity to address the judge. She wept softly when the jury's decision was read.
Assistant U.S. Atty. William Welch had called Gilbert a "shell of a human being" who deserved to die for the cold and calculating way she murdered her victims: injecting them with overdoses of the heart stimulant epinephrine, also called adrenaline, causing their hearts to race out of control.
Prosecutors had argued that she wanted to attract attention, especially from her lover, a hospital security guard, for the way she handled herself during emergencies.
Gilbert was convicted March 14 of the first-degree murder in the deaths of three veterans. She also was convicted of second-degree murder, which is not subject to the death penalty, in the death of a fourth veteran, and of trying to kill two other veterans.
Jurors deliberated for less than six hours Friday and Monday on whether to impose the death penalty. Since they were not unanimous, the sentence defaulted to life in prison.
There is no state death penalty in Massachusetts, but Gilbert was eligible for it under federal laws because her crimes took place on federal property, the Veterans Affairs Medical Center in Northampton.
Prosecutors said Gilbert confessed to the murders to the security guard and her estranged husband. Gilbert's lawyers attacked those confessions.
Copyright 2018 The Associated Press. All rights reserved. This material may not be published, broadcast, rewritten or redistributed. We strive to uphold our values for every story published.