Washington — The Supreme Court rejoined the heated national debate over the death penalty Monday, announcing it will decide whether the Constitution's ban on "cruel and unusual punishment" bars execution of mentally disabled people.
The justices said they will hear an appeal by North Carolina death-row inmate Ernest McCarver, whose lawyers say he is retarded. The justices halted his execution early this month just hours before he was to have been put to death.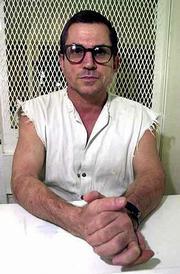 The justices decided in 1989 the Constitution allows execution of mentally retarded killers. McCarver's lawyers say Americans' views on the issue what legal arguments refer to as "standards of decency" have changed since then.
"There has been a substantial change in American society," his lawyers wrote in his appeal. "The penalty of death is plainly cruel when imposed on those whose culpability is lessened by their inability to reason."
The Constitution's Eighth Amendment bans "cruel and unusual punishments." The question, McCarver's lawyers contend, is whether a punishment offends contemporary standards.
Prosecutors said considerable evidence showed that McCarver was not mentally retarded, but they added that even if he was, his execution would not violate the Constitution.
North Carolina Gov. Mike Easley denied clemency, saying McCarver planned the 1987 stabbing and choking death of a co-worker, motivated by revenge.
This month, the justices blocked the execution of another man said by his lawyers to be borderline retarded. Antonio Richardson had been scheduled to be put to death March 7 in Missouri.
The court also plans to hear arguments today in another case involving a death-row inmate whose lawyers say he is mentally retarded.
The case involving Johnny Paul Penry of Texas does not ask whether the Constitution prohibits executing the mentally retarded. Instead, Penry's lawyers say jurors who sentenced him to death for murder did not have the chance to properly consider his mental capacity.
It was not immediately clear how the justices' decision to hear McCarver's case this fall will affect the Texas appeal. But Penry's lawyer, Robert S. Smith, said that if the Supreme Court decides the mentally retarded cannot be executed, "I would hope and believe that that decision will be applied to Penry."
The Supreme Court used Penry's case in 1989 to rule that the Constitution allows the execution of mentally retarded killers.
There have been 702 inmates executed nationwide since a Supreme Court-ordered moratorium ended in 1977. Of those, about 35 had showed evidence of mental retardation in tests, said Richard Dieter of the Death Penalty Information Center, a group critical of how capital punishment is administered.
Copyright 2017 The Associated Press. All rights reserved. This material may not be published, broadcast, rewritten or redistributed. We strive to uphold our values for every story published.