Spokane, Wash. — She wowed them in the West. Now Jackie Stiles is headed back to Missouri to the biggest stage of all.
With a lot of help from her friends especially Tara Mitchem Stiles brought Southwest Missouri State to St. Louis and the women's Final Four with a 104-87 victory over Washington on Monday night in the West Regional final.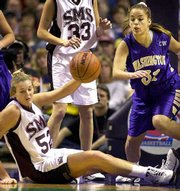 "I can't imagine a better way to end a career," Stiles said.
Southwest Missouri State (29-5) will play Purdue in the semifinals Friday night in St. Louis, just a 31/2-hour drive from the Bears' Springfield campus.
Stiles scored 32 points despite sitting out 41/2 minutes early in the second half and fouling out with 3:25 to play. As she left the court, she drew a standing ovation from the capacity crowd of just under 11,000, nearly all of them Washington fans.
The 5-foot-8 dynamo the leading scorer in women's NCAA Division I history led the Lady Bears to their second Final Four and first since 1992.
Stiles scored 73 points in her two games in Spokane to become the first woman to top 1,000 in a season in Division I.
She isn't the only blonde, ponytailed big-time sharpshooter for SMS. Mitchem scored 23 points on 7-for-7 shooting, three of them 3-pointers,and 6-of-6 free throws.
"I can't say enough about my teammates," Stiles said. "They really stepped up and hit big shots."
Southwest Missouri State shot 63 percent from the field (35-for-56), including 8-of-15 3-pointers in its biggest offensive game of the season.
Erika Rante added 16 points and 11 rebounds for the Lady Bears. Loree Payne scored 17 for Washington (22-10), including three 3-pointers. Kellie O'Neill added 14, while Megan Franza, Andrea Lalum and LeAnn Sheets each scored 12.
Washington, the No. 6 seed, trailed by as many as 20 in the first half and was down 51-33 at the break.
Stiles missed a layup and drew her fourth foul during a 14-1 Huskies' run that cut the lead to 63-54 on Payne's 15-footer with 13:16 to play.
With Stiles on the bench, the Lady Bears scored the next 10 points, including 3-pointers by Mitchem and Morgan Hohenberger, to boost the lead 73-54 with 11:31 remaining.
Stiles came back at the 9:46 mark, promptly made a 12-footer and a 3-pointer and the lead stretched to 23.
After Stiles fouled out with her team leading 92-75, the Huskies cut it to 92-80 on Franza's two free throws with 2:33 to play, and were down 94-85 on Payne's 3-pointer with 1:20 to go.
But that's as close as it got.
Southwest Missouri State is the only Final Four team that didn't play its first two tournament games at home.
Copyright 2018 The Associated Press. All rights reserved. This material may not be published, broadcast, rewritten or redistributed. We strive to uphold our values for every story published.