Who, or what, is killing the great monarch butterflies of Mexico?
Earlier this month an estimated 5 million of them were found dead in central Mexico. Concern about those deaths reached thousands of miles north to Lawrence, into the home of an 11-year-old conservation program known as Monarch Watch.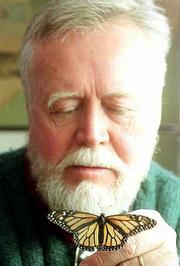 "It has to be a combination of things," said Orley "Chip" Taylor, founder of Monarch Watch. "It's a combination of badly degraded forest areas and two extremely severe winter storms that struck the area."
There also are reports that a forest intentionally was sprayed with pesticide in an effort to kill the monarchs.
"We started getting e-mails from people there who learned about the deaths," Taylor said. "We haven't confirmed that anything was sprayed."
Still, Taylor, a professor of biological sciences at Kansas University, said he wouldn't be surprised to learn that some of the monarchs' habitats were targeted by sprayers.
Many of the people in the area are connected to the logging business, and thus the industry plays a major role in the local economy, said Taylor, who has made several trips to Mexico to research monarchs.
Deadly year
Taylor theorized that someone may have sprayed a monarch habitat area in hopes that when the butterflies were gone there would be no controversy about future logging efforts.
"You can imagine what the attitude is (toward monarchs)," he said.
There are several mountain and forest habitat areas in central Mexico for the monarchs, Taylor said. But the recent deaths amount to about 6 percent of the population, he said. Even with complete forest protection, storms during the past winter in Mexico would have killed many of the butterflies.
Monarchs start moving north toward Canada at this time of the year. They generally find their way to Lawrence by the end of April, Taylor said.
Monarchs east of the Rocky Mountains fly to central Mexico in the fall, where they spend the winter. Monarchs west of the Rockies fly to southern California, where their habitats are declining because of human population growth.
In spring and summer the monarchs can often be found in areas with abundant milkweeds because that is where they lay their eggs. So when members of Monarch Watch conducted a tagging operation last year they went to the Baker Wetlands.
KU outreach effort
Monarch Watch is an educational outreach effort based at Kansas University that engages citizen-scientists in large-scale research projects. One project involves the annual tagging of monarch butterflies to help track their activity.
More than 1,800 members of the organization, including individuals, schools and nature centers, are involved in the tagging process, which occurs in the fall. Another 100,000 students also are involved.
Monarch Watch also ships donated educational materials to Mexico. In January, members took $80,000 worth of supplies to 30 schools in Mexico for an Adopt-a-Classroom project. The organization believes education is the key to conservation and saving the monarchs.
Members hope a compromise can be reached between the loggers and those working to save the monarchs.
Human problems
"We're not trying to force something on them," Taylor said.
Part of the education process is getting Mexicans who live in the monarch habitat areas to realize there are problems associated with the rapid deforestation of the mountains.
"We need to figure out a way to let them know that the living forest is more valuable than dead trees," Taylor said. "There is a real reason for keeping trees they protect the watershed."
Monarch Watch's Adopt-A-Classroom is in financial trouble, Taylor said. In two years of operations it has lost $5,000 to $7,000 per year. He said the project needs total donations of $12,000 to $13,000 per year to meet its goals.
"The problem is not getting the educational materials; it's the shipping of the materials to Mexico," he said.
---
Monarch Watch can be contacted at (888) TAGGING or (785) 864-4051, or at monarch@ku.edu. Its Web site is www.MonarchWatch.org.
Copyright 2018 The Lawrence Journal-World. All rights reserved. This material may not be published, broadcast, rewritten or redistributed. We strive to uphold our values for every story published.