Birmingham, Alabamba — There will be no Final Four trip for Tennessee this year, not even a regional final.
Xavier brought the Vols' season to a stunning end Saturday, sending them to their earliest exit in the NCAA Tournament in seven years.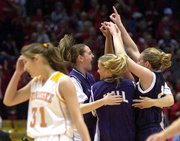 The Musketeers overcame top-seeded Tennessee's height advantage and athleticism with sharp shooting and outstanding team play to earn an 80-65 victory in the Mideast Regional semifinals.
Xavier (31-2) built a 10-point lead in the first half, fought off Tennessee's repeated comeback attempts and, remarkably, won going away for its 21st straight victory.
"We didn't want to go into this game intimidated," Xavier's Nicole Levandusky said. "If you go into a game like that, you're already defeated. You've got to go in with positive thinking, 'We can beat this team,' and that's exactly what we did."
Tennessee's unmatched tradition, which includes six national championships, and all of Pat Summitt's coaching acumen could not save the Vols (31-3) in this one.
It was the first time Tennessee failed to reach the round of eight since a 1994 regional semifinal loss to Louisiana Tech.
Instead it will be fourth-seeded Xavier, which before this season had only one NCAA Tournament victory, advancing to Monday night's regional championship against the third-seeded Purdue. Purdue beat second-seeded Texas Tech, 74-72, Saturday.
"We hope this puts us on the map," Xavier's Amy Waugh said. "We've been looking to get some national recognition all year. But we're not satisfied. We want to go to the Final Four."
Sensing defeat, Summitt sat passively on the bench as the final two minutes were played and Xavier made enough free throws to stay safely ahead. Her anger surfaced afterward.
"I am more upset with this team and disappointed in this team than I am for this team," Summitt said. "This team did not deserve anything other than the outcome they got."
Summitt's players showed little emotion as Levandusky dribbled out the final seconds and no tears were evident as they trudged to the locker room while the Xavier players celebrated at midcourt.
It was, indeed, a victory to get excited about. Consider this: When Tennessee won its fifth national title at Cincinnati in 1997, Xavier was one of the host schools and had just completed a 10-17 season.
Now the Musketeers are one game from the Final Four.
"Our rap is that we're slow and we're non-athletic," Xavier coach Melanie Balcomb said. "I don't think we're that slow and I don't think we're that non-athletic."
Tennessee had made five Final Four trips in the past six years and won three national titles. But there won't be another for seniors Semeka Randall and Kristen Clement, who were part of a ballyhooed freshman class that helped the Vols go undefeated in winning the 1998 championship.
Copyright 2018 The Associated Press. All rights reserved. This material may not be published, broadcast, rewritten or redistributed. We strive to uphold our values for every story published.