For centuries, flowers have been used to decorate homes. Bulbs were grown in special pots to bloom inside the house.
In the 18th century, Josiah Wedgwood, the famous potter, designed several types of specialized flower containers. Often, the same vase or container was used with different tops to hold bulbs, flowers or branches.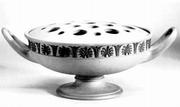 A bulb pot has to hold the bulb in place in water and allow the leaves and flowers to grow. Usually, the section that holds the bulb is a small hole with a raised collar that keeps the bulb from tipping.
The words "flower container" and "bough pot" are used today to describe the same type of vase. The vase, often shallow, has a cover pierced by nickel-size holes to support the wooden stems of branches or the bunches of small flower stems.
The flower containers were decorated in many ways. Some were the famous blue-and-white jasper, and some were tricolor jasper. Others were solid-colored pieces of terra cotta or white ware.
My oak desk is marked "Macey." It looks like the office furniture made in the early 1900s. Do you know who Macey was?
Fred Macey sold furniture in Grand Rapids, Mich., beginning in 1892. He started with a mail-order business, selling office desks made by other furniture makers. His advertising and the offer of a $25 roll-top desk succeeded, and he expanded the line to include office and library furniture.
Retail stores complained that his mail-order sales hurt their businesses, so many manufacturers stopped selling his furniture. Macey decided to make his own furniture about 1900, and he continued to sell by mail.
In 1905, the company merged with the Wernicke Furniture Co., and Macey Wernicke Co. started. In 1908 the name was simplified to the Macey Co. Fred Macey died in 1909, and Otto Wernicke became president.
The company had money problems in 1916, then recovered, but then went bankrupt in 1937. It closed in 1940.
The furniture is marked in many ways. The cursive mark "Macey" was used in 1896, the oval mark in 1926. The rectangular mark "Macey-Wernicke Co." was used from 1905 to 1908.
What is mother-of-pearl?
Mother-of-pearl is the hard iridescent layer covering the inside of the shells of certain mollusks, including pearl oysters, river mussels, abalones and nautilus snails.
Chemically, it is a compound of calcium carbonate, limestone, chalk and marble. It looks iridescent pink, purple, blue and green because of the microscopic wrinkles on its surface.
Mother-of-pearl was used as inlay in the Far East as early as the sixth century. It became popular in the West during the 18th-century expansion of the British Empire. Mother-of-pearl inlay is found on jewelry, cutlery, papier-mfurniture and other Victorian items.
Scrounging around a local flea market, I found an old GE fan I couldn't resist. It's the first fan in my collection of old kitchen appliances. Mostly I have toasters, blenders, mixers and percolators, which I spend a lot of time restoring. My fan has a small plate on the back that reads "Insert nickel, turn to left, turn to right." Why?
Your fan is a pre-1920, coin-operated model designed for use in old roadside motels. In the days before air conditioning, General Electric made several fans for the motel trade. Travelers staying overnight could put a nickel in and get an hour's use out of a fan.
My 98-year-old grandmother recently gave me a pair of 6-inch bronze urns that her aunt displayed in her living room more than 75 years ago. The urns are decorated with raised designs of dragons. I cleaned and polished them, but the cleaner turned them slightly green. How old are my urns, and can I remove the green tint?
The facing-dragon design was used extensively in Japan and China. Your bronze urns probably date from the late 19th century.
Unfortunately, you should never have used a commercial cleaner on your antique bronzes. They were made with an original patina that you have destroyed.
Of course, you can still use the urns as planters, and they will continue to have sentimental value.
l Ralph and Terry Kovel are hosts for a new television program. "Flea Market Finds with the Kovels" will debut this week on HGTV, Sunflower Cable channel 45. The first shows will air at 11 a.m. Monday through Friday. Episodes will also be shown at 7 p.m. Friday and 6 p.m. Saturday. The program will begin a regular weekly schedule this fall.
The Kovels answer as many questions as possible through the column.
By sending a letter with a question, you give full permission for its use in the column or any other Kovel forum. Names and addresses will not be published.
We cannot guarantee the return of any photograph, but if a stamped envelope is included, we will try. The volume of mail makes personal answers or appraisals impossible.
Write to Kovels, Lawrence Journal-World, King Features Syndicate, 235 E. 45th St., New York, NY 10017.
Copyright 2018 The Lawrence Journal-World. All rights reserved. This material may not be published, broadcast, rewritten or redistributed. We strive to uphold our values for every story published.