Rancho Mirage, Calif. — Annika Sorenstam has won two tournaments, shot a record 59 and put herself in contention for a major championship in the last three weeks. She's exhausted, fighting a cold and wants nothing more than to put her clubs in the closet for a long while.
Before she does, she believes she has one big round left in her.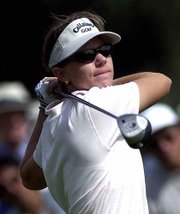 "This is it. This is all I've got," Sorenstam said. "It's so close, I have to give it my all."
The hottest player in women's golf gave herself a chance to win the tournament she most wants Saturday, shooting a second straight 2-under 70 to pull within a shot of Rachel Teske in the Nabisco Championship.
Sorenstam would cap a remarkable stretch of golf if she manages to overtake the Australian leader and win her first major title since the 1996 U.S. Women's Open.
"My goal is to be patient and give it my all," Sorenstam said. "I hit all 18 greens today but my putter was a bit off. Hopefully tomorrow I can be sharp with my putter."
Sorenstam three-putted twice but nearly aced the par-3 17th hole for a final birdie that got her to 4 under for the tournament, a shot behind Teske, who shot a 66 to come out of the pack and take the lead.
It's a tenuous lead at best, though, with Sorenstam and 1998 champion Pat Hurst tied a shot back along with Japan's Akiko Fukushima. Two-time champion Dottie Pepper was another shot behind, while two of women's golf's biggest names, Se Ri Pak and Karrie Webb were within striking distance four shots back.
The leaderboard was jumbled after a day of missed opportunities for many players, including second round leader Hurst, who threw her golf ball into a pond after three-putting the 14th hole.
"There was a lot of frustration out there," Hurst said.
Not for Teske, who won three tournaments under her former name, Rachel Hetherington, but has never been a factor in a major championship.
Teske made the biggest move and made it early, starting the day 1 over but finishing it at 5 under after a round that included six birdies and 12 pars. It could have been even better, but Teske failed to birdie any of the par-5s on the tight, demanding Mission Hills Country Club course.
Teske was seven behind Hurst when the day started, but quickly shot herself into contention with a 33 on the front nine.
"With Patty being 6 under I really had to go out and play well today," Teske said. "I was determined to do that."
Teske could find scoring more difficult Sunday when she begins in the lead instead of in the middle of the pack. But she might take comfort in the fact that the last five third round leaders in the Nabisco have gone on to win the championship.
"I haven't really played well in any of the majors, but I feel I'm a better player than I was before," she said. "I'm going to win sometime soon."
While Teske made a run, it appeared Se Ri Pak would emerge as the third round leader after she followed a front-nine 33 with a birdie on the par-3 14th hole that gave her the lead at 6 under.
But her game imploded with a double bogey and three bogeys on the final four holes and she finished four shots back.
Copyright 2018 The Associated Press. All rights reserved. This material may not be published, broadcast, rewritten or redistributed. We strive to uphold our values for every story published.