Nashville, Tenn. — George Strait's latest tour of stadiums is the hottest ticket of the year for country music fans. Performers, too.
Singers who hit the road with Strait tend to sell records. Eight of the 10 best-selling country music acts of 2000 have been featured on one of his festival tours, and every singer in Nashville wants a piece of that action.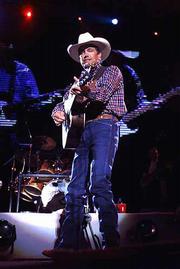 This year, country superstar Alan Jackson, a longtime headliner, will be on the bill.
"They're doing really big numbers," he explained.
The fourth annual festival begins Saturday in Tampa, Fla., moves on to Miami the next day, then hits Phoenix and Las Vegas Saturday and April 1. Other stops include New Orleans, Atlanta, St. Louis, and Louisville, Ky., before ending in Dallas on June 10.
Jackson said he doesn't mind playing second fiddle to Strait for the tour's 16 dates.
"Oh yeah, that's George's show," he said. "I wouldn't even think about putting myself up there next to him."
Asleep at the Wheel, Brad Paisley, Lee Ann Womack and Lonestar will also perform.
Boosting others' sales
The tour was born from an annual stadium show that Strait began in San Antonio eight years ago. Starting a large, daylong country music tour as the popularity of the genre was on the downslide from its peak in the early 1990s seemed like a big risk.
Since 1998, Strait's stadium tours have grossed $86 million, about 19 per cent of the $452 million grossed by the entire country music touring industry, according to Amusement Business magazine.
"I think people have become more selective of what they go see," said Louis Messina of SFX Music Group, promoter of the Strait tour.
"Instead of four or five shows a year, they're going to see one or two," Messina said. "So here's a 10-hour concert packed with the hottest stars going. Our plan is it's the one show they have to see."
Joe Galante, who runs RCA Records in Nashville, said he witnessed the commercial power of the Strait tour through RCA act Kenny Chesney.
"The fact that Kenny Chesney was on the last two George Strait tours was a big part of his album debuting at No. 1 on the country charts," Galante said. "The festival's fans are active buyers. They remember when someone does a great job on stage and has great music, and at some point, they go buy it."
Chesney said his two Strait tours were "priceless."
"You can't put a dollar amount on it," he said. "The relationships you make with the people there, the things that you learn from everybody are just unbelievable. There's something to be learned from people who have had careers like George Strait has."
Emily Robison of the Dixie Chicks said the 1999 tour helped them launch their first headlining tour the following year.
"We wanted to build our fan base before launching our own tour and by performing in stadiums packed with country music lovers, we did just that," Robison said.
Strait and Jackson plan to duet on their popular "Murder on Music Row" song.
"It's a chance for me to go into those markets with George and do something a little different," Jackson said.
Strait, 48, has sold more than 53 million albums, with consistent sales over two decades.
He had his first hit, "Unwound," in 1981, back when it was a big deal for a country singer to earn a gold record (for sales of 500,000). He's weathered numerous trends and competition, ranging from the rise of one-time Strait emulator Garth Brooks to the pop country of Shania Twain.
Jumping on the bandwagon
Imitators to the Strait tour have cropped up as other singers realized they needed to offer more to stay competitive.
Brooks & Dunn are headlining the Neon Circus & Wild West Show, which is also being promoted by SFX in 40 cities. On that bill are Toby Keith, Montgomery Gentry and Keith Urban.
Reba McEntire plans to headline an all-female show featuring Martina McBride and three other women.
Strait tour veterans Chesney and Tim McGraw are expected to team up with a third act for a tour.
Other package tours include the annual Charlie Daniels Volunteer Jam, with the Dicky Betts Band and .38 Special; the Honky Tonk Tailgate Party, with Rhett Atkins, Daryle Singletary and Jeff Carson; and Berry, Bogguss and Dean, with John Berry, Suzy Bogguss and Billy Dean.
"A lot of people are holding on to their money right now," Messina said. "When people read in the newspaper that a recession may be coming and unemployment is going up, those leisure dollars may not get spent.
"But the secret is no secret: Sell something of quality that's a good value, and people will buy it."
Copyright 2018 The Lawrence Journal-World. All rights reserved. This material may not be published, broadcast, rewritten or redistributed. We strive to uphold our values for every story published.