Ames, Iowa — A second flock of Vermont sheep suspected of having been exposed to a form of mad cow disease arrived Saturday at a U.S. Department of Agriculture veterinary laboratory for testing.
The 126 East Friesian milking sheep were seized Friday from a farm at East Warren, Vt.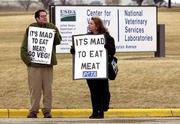 The owners, Larry and Linda Faillace, had fought to keep their flock, urging officials to first complete tests on a flock of 234 sheep confiscated Wednesday from a farm in Greensboro, Vt. Their request was denied.
The government says some of the sheep may have been exposed to mad cow disease through contaminated feed before they were imported from Europe in 1996.
The Greensboro flock arrived at the lab Thursday. Lab workers began killing the sheep and taking brain samples Friday. Four of those sheep had earlier tested positive for transmissible spongiform encephal-opathy, or TSE, a family of diseases that includes both bovine spongiform encephalopathy, or mad cow disease, and scrapie, a common sheep disease that doesn't affect humans.
Sheep brain tissue will be injected into mice, said Dr. Linda Detwiler, senior staff veterinarian with the USDA's Animal and Plant Health Inspection Service. Damage to the brain tissue of the mice will tell scientists what strain of TSE the sheep had. It will take two to three years before results are known.
Copyright 2018 The Associated Press. All rights reserved. This material may not be published, broadcast, rewritten or redistributed. We strive to uphold our values for every story published.