HAINES CITY, FLA. — Raul Ibanez hit an RBI single in the 10th inning and Kansas City edged an Atlanta Braves' split squad 5-4 Saturday.
Former Kansas standout Jeff Berblinger was hit by a pitch from John Foster to lead off the 10th. Gregg Zaun doubled before Ibanez singled for his team-leading 11th RBI.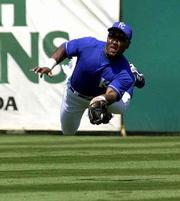 Doug Bochtler (1-1) worked a perfect 10th for the victory.
The Braves took a 2-0 lead on Andruw Jones' sacrifice fly in the first and Travis Wilson's single in the third.
The Royals tied it in the fifth on Wilson Delgado's two-run double.
Dee Brown, who had three hits to raise his average to .346, hit a two-run double in the sixth.
The Braves tied it in the ninth off Cory Bailey the first runs he allowed in spring training. B.J. Surhoff tripled home a run and scored on Nick Green's single.
Mac Suzuki, who had shoulder surgery in October, made his first start. He threw 65 pitches in 32*3 innings and allowed two runs on two hits and two walks.
Copyright 2018 The Associated Press. All rights reserved. This material may not be published, broadcast, rewritten or redistributed. We strive to uphold our values for every story published.